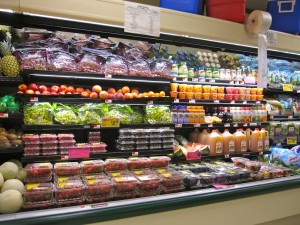 At Charlie Johns, we take great pride in providing you with the freshest produce, quality deli and baked goods and the best cuts of meat available, all at competitive prices. But did you know you can rely on us for virtually all of your needs? We're a full-service grocer and much more, and we think you'll be pleased with what we have "in store" for you.
When you shop with us, you'll find that we offer all the amenities of supercenters, with similar, and in some cases better, pricing. We offer a complete produce section that carries a large selection of fruits and vegetables. We take pride in the quality of our produce, too – we never sell anything that we wouldn't want on our own tables. Our new produce coolers keep our fruits and vegetables at optimal temperatures, so they're delicious and healthy for you and your family.
Our deli section offers choice varieties of deli meats from well-known brands, so you know you'll get quality cold cuts from Charlie Johns. Ham, roast beef, turkey and more are sliced to your order, as well as a variety of cheeses. You can also count on us to provide you with home-style salads, hot meals to go and subs and sandwiches. Next to our deli in our meat section, you'll find the best fresh cuts of beef, poultry and pork.
Throughout the store, you'll also discover an extensive selection of canned and dry grocery goods, as well as household items like detergents and cleaners. We also have a pet section that offers a wide variety of food, treats and necessities for your family pet – no matter what the species. And, when you'd like a nice, cold, refreshing beverage, give our large, walk-in beer cooler a visit – you'll find traditional brands as well as many varieties of craft beers, too.
Aside from groceries, Charlie Johns is also packed with everything you need for your Adirondack vacation. If you're camping, you'll find everything you need, from tents to Coleman stoves. We have fishing supplies, lawn chairs, inflatable mattresses – you name it, we can help meet your camping needs.
Maybe you'd like to simply relax by the lake with a good book. If that's your wish, make sure you check out our extensive collection of Adirondack-themed books – it's like a bookstore within our store! And we offer an extensive hardware section, where you'll find everything you need for those repairs and building projects around the house or camp.
So whether you live in beautiful Speculator year-round, or your one of our summer guests, you can count on Charlie Johns to meet all of your needs. Stop in and see what a true Adirondack general store has to offer! Charlie Johns is located at 111 Elm Lake Rd in Speculator, and can be reached at (518) 548-7451.