One of the most unique features of our general store are the books and maps that populate our "center aisle." As the local general store, you'll find a wide assortment of housewares, hardware and camping supplies; but we also stock an impressive collection of locally specific books, trail guides, maps, and the history of the area. We also have gifts, souvenirs, and apparel that you can buy for your loved ones as a mementoes of the great time you had in Speculator, NY.
Largest Selection of Adirondack Books Around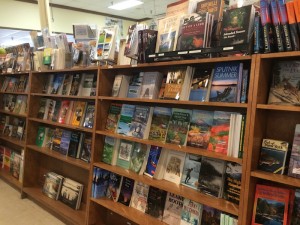 Charlie Johns has a comprehensive selection of books written about the Adirondacks, from non-fiction histories of the area to tall tales and fiction (including children's books) about the area or by local authors. We have field guides, trail maps, and background on the local sights to enrich your experience of the Adirondacks. In fact, we offer more than 300 book titles for you to choose from in our curated aisle.
The Adirondacks is an area of New York that's steeped in history and tradition. It's majesty and beauty have inspired many great works of literature set in or are about the Adirondacks. Authors like Barbara McMartin's wonderful books about the history of preserving the natural resources of the area, and William J. O'Hern's books about the people and industries of the area are just some examples of our selection of book titles.
But that's not all you'll find in our book section, we also carry local maps, trail guides, stationery, postcards, and greeting cards! We have something for everyone.
Souvenirs, Gifts and Apparel
If you're looking for a gift shop in the area, we can help you. Are you looking for a lasting memento of your vacation in the Adirondacks? Or need some warm gloves and hat for one of those unexpectedly chilly days?  We strive to be the most convenient, one-stop shop in the Speculator area. We proudly offer a variety of Adirondack and local gift items, candles, sweatshirts, t-shirts, puzzles, games, and more. You don't have to travel out of town to find something that you'll love to take with you. For even more gift and souvenir choices, visit our sister store, Speculator Department Store  near the corner in Speculator, NY.