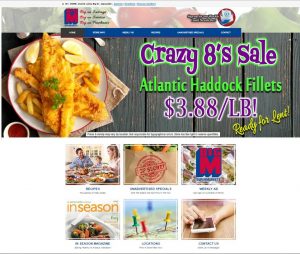 At Charlie Johns, the customer is always our top priority. That's why we've been working to make it easier than ever for you to shop with us. In our Speculator Living e-newsletter, we told you about adding the new ShoptoCook kiosk to Charlie Johns. This kiosk offers cutting edge technology and is a feature that most stores don't offer. When you visit the ShoptoCook kiosk, you can search and print coupons, print recipes, create and print shopping lists, visit our weekly Big M flyer and browse product information.
Additionally, the new Big M website allows you to get ready for your shopping experience, menu plan, and enjoy new recipes, right from the comfort of your home.
The website allows you to:
View the weekly specials flyer
Create shopping lists
Simply click items to add to shopping list
Find unadvertised specials
Find recipes for sales items
Browse In Season online magazine
And, selecting Charlie Johns as your store is easy. Once you're on the Find Your Store page, all you need to do is go to the map, browse the sidebar under Locations, and click My Store. It's that simple!
What's next for Charlie Johns? We plan on updating our website soon so that it's easier and more convenient for you to use. Make sure you visit us often for quick links to our Big M weekly specials and True Value weekly specials, to sign up for our Trail Marker Rewards program, subscribe to the Speculator Living newsletter and more!