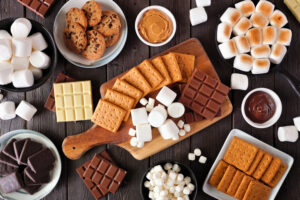 Once summer arrives, everyone loves to gather around the campfire for food, beverages, and conversation. And, many people enjoy that quintessential campfire treat – delicious, gooey s'mores! While we all know the traditional chocolate-marshmallow-graham cracker s'more, there are so many ways you can make this treat unique! If you're hosting a get-together, why not put together a s'mores charcuterie board, and let guests create their own s'more?
Ingredients That You'll Need
Of course, you'll want the usual milk chocolate bars, graham crackers, and marshmallows. But here are a few other ingredients that are guaranteed to kick the humble traditional s'more up a notch!
Graham Cracker Variety: Consider adding chocolate or cinnamon-sugar graham crackers to the mix.
All the Chocolate Bars: In addition to milk chocolate, treat your guests to white chocolate, dark chocolate, and even peanut butter cups!
Spreads: Fruit jams, peanut butter, and hazelnut spread are all a great addition to your charcuterie board and can add some extra flavor to any s'more.
Cookies: Instead of graham crackers, give your guests some cookie options to use in their place. Chocolate chip cookies, chocolate sandwich cookies, and peanut butter cookies are all fun options.
Fresh Fruits: Some fruits go great with the gooey, chocolatey goodness of a s'more. Add some fresh raspberries, sliced bananas, and sliced strawberries to your board for an unexpected dash of flavor.
Marshmallow Roasting Sticks: You can usually find these in your grocery store and are a must-have for your s'more fest. After all, what's a s'more without a perfectly toasted marshmallow?
Head on down to Charlie Johns for everything you need to have s'more fun this summer!
At Charlie Johns, you'll find all the ingredients for your s'more charcuterie board, as well as a wide variety of beverages, salads, and meats that are sure to make any outdoor gathering fun – and tasty! Stop in today and get everything you need for your get-together.