Are you still hanging on to those macaroni angels painted by your preschoolers? How about that cotton ball Santa Claus beard your oldest made in 1st grade?
Every year, at the start of December, The Charlie John's Store team pulls out our holiday decorations and gushes on the cute crafts and ornaments we have collected over the years. If you are like us, then you know that each one tells a story and holds a memory.
This Holiday we are inviting you to make new memories with these cute holiday crafts that are suitable for children of all ages. 
This resource is a compilation of crafts taken from the web, and can be done using either household items or things readily found right here in our general store.
We hope you enjoy them and this resource enables you to spend more time with your family and less time surfing the web (as we know how time consuming that can be!)
---
DIY SNOW GLOBES
Childhood is incomplete without a homemade snow globe! This snow globe offers you the perfect excuse to get rid of those pesky plastic figurines that have been gathering dust in your house. 
Materials:
Small glass jar with lid

A plastic figurine or Lego

Glycerin (optional: while it's not necessary, it makes the glitter float better)

Glitter

Sequins

Water

Spoon

Super Glue or a hot glue gun
Directions
1.Using your super glue or hot glue gun, place a small dot on the inside of the jar's lid.  Glue the figurine to the lid to make the DIY snow globe.
2.Fill the jar with cold water to make the DIY snow globe.
3.Add 1-2 teaspoons of glitter and stir.
4.Add a teaspoon of glycerin.
5.Screw the lid on the jar. You can glue it if you're concerned about your child trying to open it.
That's it! Have your child shake the jar or tip it upside down to make it "snow."
---
PASTA CHRISTMAS ORNAMENT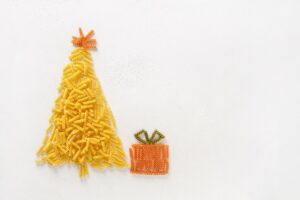 Make this funky ornament for the Christmas tree with noodles this year! Create a snowflake using your favorite dry pasta and glue it in a pattern. Then your child can paint and jazz up the mini-sculpture to catch every guest's eye!
Materials 
Dry pasta 

Glue 

Paint (you can choose the color

Paintbrush 

Glitter glue

 Thin ribbon 
Directions
Start by arranging a handful of pasta in cool patterns to determine which sides to glue together.

Glue the pasta together once it is in a pretty shape. Make sure it dries completely. 

Paint the pasta snowflake. 

You can apply glitter to the paint while it is still wet! After the front is dry, flip it over to do the other side. 

Put a ribbon through the hole between the pasta pieces to create a loop. 
Now you can display your new ornament on your Christmas tree for everyone to see.
---
HOLIDAY POPCORN GARLAND
Find out how to make an old-fashioned, adorable Cranberry and Popcorn Garland by following these tips and tricks! 
Materials
Popcorn

Fresh Cranberries

Fishing line

Quilting needles,

Scissors

Tape
Directions
Put unsalted, unbuttered, popped popcorn in a large pot(s) to get stale over a minimum of three days.

Tie one end of the fishing line to something sturdy to prevent it from curling. Make a pattern by weaving a string through the thickest part of the popcorn and alternating popcorn and cranberries.

Apply clear tape to each end of the strands to prevent popcorn from sliding off

Carefully drape each strand onto the tree, starting at the top.
That's all there is to it. An affordable and perfect holiday garland. It's even better that you can upcycle this craft. After the holiday season, place the garland outside for the birds to enjoy.
---
Ready to get started on your holiday crafts, come down to Charlie John General Store and get all the supplies you need to get started, and a few stocking stuffers too!
When you finish your crafts snap a photo and share it with us on Facebook, or Instagram  We'd love to see how it turned out!