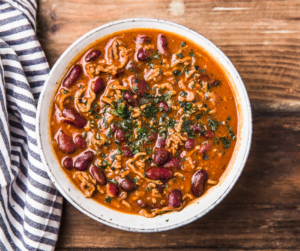 A bowl of warm chili, a cool breeze, a cozy blanket and a blazing fire is the perfect recipe to cure the winter time blues.
Growing up in the Adirondack mountains, we take our chili quite seriously, this warm and filling winter staple has become a beloved American dish and cultural touchstone.
This year many of us get our fix at the annual "Chili Take-Out Event" happening at the Mountain Community United Methodist Church in Lake Pleasant on November 8th.
But, the cravings are back, and we need a way to get that same delicious meal, at home.
Campfire Chili Recipe
Don't fret, we have a recipe for the whole family to enjoy,  or you can store the leftovers in the freezer for a quick meal anytime.
We love this classic take from Chef Charlie Gipe and Chef Robert Roebuck, aptly titled: "Campfire Chili" , not only is it delicious but this recipe only takes thirty minutes.
2 pounds of smoked beef brisket, medium diced or ground beef
1 cup white onions, medium dice
1 cup green bell pepper, medium dice
1 cup red bell pepper, medium dice
2 tablespoons of Extra virgin olive oil
2 – 28 ounce cans of diced tomatoes in juice
2 – 12 ounce bottles of chili sauce
2 teaspoons of minced garlic
1 teaspoon of Sriracha
2 tablespoons of southwestern seasoning
Half of teaspoon of black pepper
2 tablespoons of chili powder
Quarter of a cup of brown sugar
1 – 15.5 ounce can of Cannellini beans
1 – 16 ounce can of mild chili beans ( Pinto Beans in Chili Sauce )
1 – 15.5 ounce can red kidney beans
1 – 15.5 ounce can of butter beans
1 – 15.5 ounce can of great Northern beans
1 – 15.5 ounce can of black beans
Instructions
In a 2 1/2 gallon stock pot, sauté peppers and onions in olive oil until they are translucent and soft to the touch.
Next,  brown your meat, (Browning is the process of partially cooking the surface of meat to develop its flavor through various browning reactions and give it a more attractive color.)
Once the meat is browned add all of the other ingredients, bring to a boil then reduce and
simmer for 30 minutes, stirring occasionally.
As you watch your chili, give it a taste throughout and adjust the seasonings accordingly. Feel free to add more salt and pepper, or any of your preferred seasonings.
You can also customize this recipe to incorporate your favorite flavors, like spices, lemon juice, soy sauce, jalapeño's, banana peppers and so on. Just be sure to add those seasonings (especially salt) a little at a time, tasting frequently, so as not to over season.
Serve and Enjoy.
For Recipe Click Here
You can find everything you need to make this campfire chili – and more – at Charlie Johns Store in Speculator, NY. Stop by today and take a look at everything we have in stock. Our dedicated team will be happy to help with anything you need.