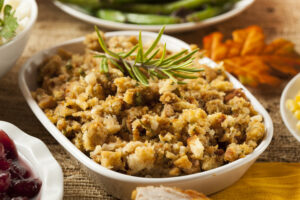 For the most part, a traditional Thanksgiving feast consists of turkey, gravy, mashed potatoes, vegetable dishes, cranberry sauce, and of course, stuffing or dressing. Stuffing and dressing are essentially the same, except stuffing is cooked inside the turkey, and dressing is usually prepared in a casserole dish.
Of all the Thanksgiving dishes, the dressing may be the one dish that has several options. Some people like to add sausage, rice, and even dried fruits to their dressing. In this simple recipe, cornbread sets the stage for a dressing that is both very easy to make and delicious to eat. You can further simplify this recipe by using prepared cornbread, usually available in the bakery section of your grocery store.
Easy Cornbread Stuffing
Ingredients
3 cups cornbread, crumbled
2 Tbsp. butter
1 small onion, diced
½ cup celery, chopped
2 large eggs, beaten
2 cups chicken stock
1 Tbsp. dried sage
Salt and ground black pepper to taste
Directions
Preheat oven to 350 degrees F. Grease a 7×11" baking dish. Place crumbled cornbread in a large bowl.
Melt butter in a skillet over medium heat. Add onion and celery; cook until soft (about 6 minutes).
Add cooked onion and celery to cornbread and stir in remaining ingredients until well combined. Pour dressing into the prepared baking dish.
Bake dressing until it turns golden brown around the edges, about 30 minutes.
Find the ingredients you need for this dressing and your entire feast at Charlie Johns.
Charlie Johns is ready to help make your Thanksgiving feast a success. We have everything you need for a perfect holiday, from the turkey to delectable pies for dessert. Just stop by and see what we have in store for you!