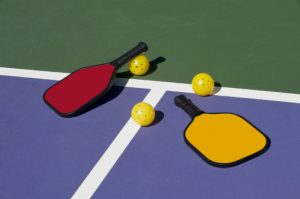 Have you run out of fun things to do this summer? Then you might want to consider a sport with an unusual name, which many people haven't heard of – pickleball! Invented during the 1960s in Seattle, Wash. as a backyard pastime for children, the sport has become popular with adults as well. Pickleball is played worldwide, and there are even pickleball leagues. The appeal is that anyone, at virtually any skill level can play. Of course, if you haven't heard of it, you're probably wondering what, exactly, it is. The USA Pickleball Association, or USAPA, has the answer.
According to the USAPA, pickleball is a paddle sport that anyone, at any skill level, can play. Rules are simple, and it's an easy game to learn. Basically, pickleball combines tennis, badminton and ping-pong, and can be played either indoors or out. The equipment used in the game is extremely simple – it only requires a paddle and a plastic ball with holes. Like tennis, it can be played as doubles or singles.
There is no designated form of attire needed to participate in pickleball – it's a very "come-as-you-are" type of sport. The only thing the USAPA recommends is a good pair of tennis shoes, because sneakers and running shoes don't provide the right kind of support. If you think pickleball sounds like a great activity, you're in luck – leagues are becoming easier and easier to find all across the U.S. In fact, the USAPA indicates that there are more than 15,000 indoor and outdoor pickleball courts in the U.S. – including the program in Lake Pleasant.
The Town of Lake Pleasant Pickleball Program is located at the Hamilton County Office Complex. The program takes place on Tuesdays and Thursdays at 6 p.m., Saturdays at 9 a.m., and Sundays at 4 p.m. Three courts are available for play, and people of all skill levels are invited to join. Nets, balls and paddles are provided. You can learn more about Lake Pleasant's pickleball opportunities by emailing [email protected].
And, when you're looking for the equipment you need for a wide variety of outdoor summer fun, be sure to visit us here at Charlie Johns in Speculator. We have complete listing of outdoor recreation items for purchase, including inflatable rafts, towable tubes, disc golf and an assortment of outdoor games and toys for the whole family. For more information, you can give us a call at (518) 548-7451, or better yet, stop in and see what we have in store for you.