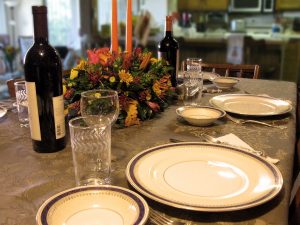 Ah, Thanksgiving. A time of family, friends and… stress? While nothing is more enjoyable than sitting down to a delicious feast with those you love, preparing that smorgasbord can be nerve-wracking. Of course you want everything to turn out just right. But, if you don't have everything you need to make your feast fabulous, it can cause stress for you and spell disaster for your recipes. That's why we're sharing this list of items, as well as some great tips, that will help you prepare for a traditional Thanksgiving feast your whole family will enjoy.
Turkey: Of course you won't likely forget the star of the show. But make sure you have enough – if you want leftovers, aim for about one and a half pounds per person. And, if your turkey is frozen, make sure your date of purchase allows for time to thaw in the fridge.
Tip – Make sure your roasting pan is big enough to accommodate your bird.
Potatoes: Mashed potatoes are a staple at your Thanksgiving feast. You can make them traditionally, with just some milk, butter, salt and pepper. Or, add some roasted garlic, chives, shredded cheese or truffle oil for more pizzazz.
Tip – Yukon Gold potatoes have the lightest, smoothest texture and make for great mashed potatoes.
Chicken Stock: This is a staple people often don't think about, but one that can be your Thanksgiving feast's hero. Chicken stock helps you make your gravy and stuffing tastier, and is great for basting your bird.
Tip – Do you have a turkey baster on hand? Basting your bird keeps it from drying out, and a baster makes that job easier.
Stuffing: Whether you make your stuffing 100 percent from scratch or simply use a prepared stuffing mix, you'll want to make sure you have your stuffing ingredients on hand. Moist bread makes your stuffing mushy, so spread your cubed bread on a cookie sheet, leave uncovered and dry out overnight.
Tip – Alton Brown of the Food Network says not to stuff your turkey at all, because it can lead to food poisoning. If you prepare your stuffing on the side, it's then known as dressing!
Herbs, Spices, Celery, Onion & Garlic: All of these things are necessary ingredients that help add flavor to your dishes. Check your recipes to see what you need in the way of these items, so you'll have them available once the cooking begins. And remember, fresh is best, so consider checking out the produce section of your store for herbs, rather than just the baking aisle.
Tip – It's not just a Simon & Garfunkel lyric – parsley, sage, rosemary and thyme are wonderful fresh herbs to stuff in the turkey cavity while it roasts.
Butter, Salt & Pepper: You'll want butter dishes at the ready for your guests, as well as shakers of salt and pepper easily accessed on your Thanksgiving table.
Tip – Have plenty of butter for cooking as well as for the table on hand. Unsalted butter is better for your recipes, but salted goes great on potatoes, breads and rolls.
Beverages: Ice water, cranberry juice, red wines, apple cider (both G-rated and hard) are all delicious beverage choices for your feast. Brew some coffee to go with your pies for dessert!
Tip – Make enough ice to keep beverages cool, or buy a bag so you know you won't run out. 
Side Dishes: Every family has its own favorite Thanksgiving sides. Glazed carrots, butternut squash, Brussels sprouts, green bean casserole, cranberry sauce, macaroni and cheese – there are so many to choose from! Pick your sides in advance, and check the recipes for each to ensure you have all the ingredients you need.
Tip – If you're looking to simplify, take a family poll of all the sides you usually make each Thanksgiving and choose the top three.
Pie: No Thanksgiving dinner is complete without pie for dessert. In a poll conducted by the Huffington Post, pumpkin pie was the hands-down winner for favorite Thanksgiving pies, with apple coming in second and pecan, third.
Tip – Even if you make your pies from scratch, keep a couple of frozen pies on hand just in case you have unexpected guests or a dessert disaster.
You can find everything you need for your Thanksgiving feast at Charlie Johns.
From delicious baked goods such as pies and rolls, to fresh, quality meats and produce, Charlie Johns can help you create a meal that your friends and family will rave about for years to come.