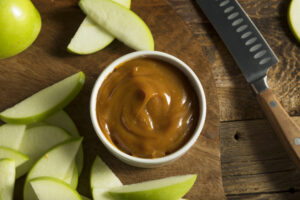 September is apple season in New York, and we can't think of a better way to start off autumn than with a tasty apple recipe that's sure to be a hit with adults and kids alike. It combines the delicious flavor of apple crisp with the whimsical delight of a caramel apple – all in one easy recipe. These caramel apple bars can be whipped up in just a few minutes and are great for an after-school treat or for a fall get-together with friends. Keep reading to learn more!
Caramel Apple Bars
Ingredients
1 cup packed dark brown sugar
½ cup butter, softened to room temperature
¼ cup shortening
1 ¾ cups + 3 tbsp all-purpose flour
1 ½ cups quick oats
1 tsp salt
½ tsp baking soda
4 ½ cups peeled, chopped tart apples (such as Granny Smith)
1 14 oz. bag caramels, unwrapped
Directions
Preheat oven to 400 degrees F.
Mix brown sugar, butter, and shortening in a large bowl until smooth and well blended.
Stir in 1 ¾ cups flour and oats, salt, and baking soda until crumbly.
Reserve 2 cups of this mixture; press the remaining mixture into an ungreased 13"x9" pan.
In a large bowl, toss apples with the remaining 3 tbsp of flour. Top the oat mixture you pressed into the pan with the apple mixture, making sure it's even.
In a small saucepan, heat caramels over low heat, stirring occasionally, until melted.
Drizzle caramel even over the apples.
Sprinkle the reserved oat mixture over the caramel and press lightly.
Bake 25-30 minutes, or until apples are tender and topping is golden brown.
Cool for at least 20 minutes on a cooling rack before serving.
You can find all the ingredients you need for this recipe right at Charlie Johns. We have fresh, delicious apples available in our produce section, and a complete lineup of baking products – from flour and salt to sugar and spice! Stop in today to see how we can help make your fall baking a breeze.