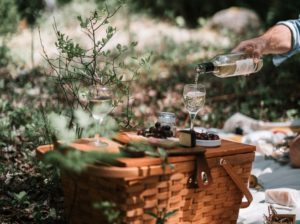 There's nothing quite like going on a nice, relaxing picnic on a beautiful summer day. Whether you're packing a picnic for a fun family outing or planning a romantic outdoor adventure for two, there are a few ways you can ensure that your alfresco lunch or dinner will be simply perfect. With a little planning, you can easily pack a perfect picnic meal.
5 Tips for Picnic Planning
Make sure you pack the tableware you need. You'll want to remember to pack plates, cups, flatware, and serving utensils. Or, you can keep it simple and pack finger foods and individual beverages in cans or bottles. Either way, you'll want to make sure you have everything you need for serving your picnic sundries.
Keep warm dishes right in their cooking vessel. This is an easy solution to transporting any cooked foods and requires much less fuss than moving your warm food over to a serving dish. Simply tie a clean dish towel around your warm dish to keep it secure and help it retain the heat.
Place individual finger foods in cupcake wrappers. This is a perfect solution for helping to keep finger foods like sandwich squares or deviled eggs secure. And the best part? The wrapper also makes for simplified serving and clean-up!
Try to avoid leftovers. Depending on how far from home you'll plan to picnic, you should remember that the food you serve on your picnic will have to travel with you both there and back home. To avoid spoilage concerns, packing just as much food as you'll need to serve your picnic-goers can help prevent too many leftovers – and foodborne illnesses.
Carry out what you carry in. It's a good idea to pack a garbage bag along with your picnic goodies, so you can easily clean up your picnic area and leave no mess behind. It's also a good idea to pack a couple of extra plastic bags for any dirty dishes and utensils you'll need to bring back home and wash after your outing.
Make your picnic dinner even easier by shopping at Charlie Johns.
When you visit us at Charlie Johns, we can help you make your picnic meal a breeze. Our full-service deli can provide you with easy eats like cold cuts, cheeses, and premade salads, and our bakery section offers delicious bread, rolls, and desserts. Plus, you'll find the disposable tableware you need to keep your picnic clean up as simple as possible. Stop in and we'll help you with everything you need for the perfect picnic!