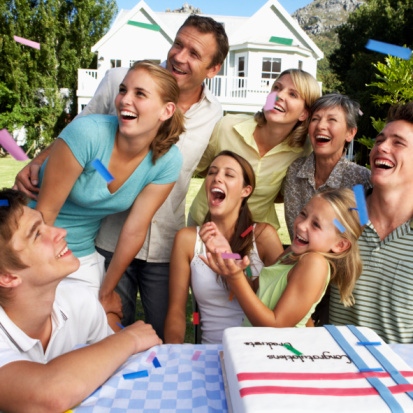 Is there a special high school senior in your life who will be graduating from high school this month? If so, then you're probably in the midst of planning a graduation party. Maybe you've already got everything figured out, from the invitations and decorations to the menu, but if you're like so many busy people, you might be searching for the perfect party solution. Here are some ideas that might help you as you plan.
Invitations: Make sure you get your invitations out soon. Include an RSVP card that will indicate how many family members will be attending per invitee. Having those numbers is important, so you know how much food you'll need.
Accommodations: If you plan on having a cookout or picnic style grad party, you'll need to plan for rain or otherwise inclement weather. If you have a nice garage or covered deck you can retreat the party to in the event of bad weather, great! If not, you'll probably want to consider a tent rental or hosting the party at an indoor venue.
Decorations: Keeping the decorations simple can help save you a lot of headaches. The focus should be on the graduate, not on stressing over how the décor looks. Balloons, crepe paper streamers and a congratulatory banner, along with well-placed centerpieces and party favors, will be sufficient. Nowadays, you can get decorations in all sorts of color combinations, too, so choose your grad's school colors for added impact. Find disposable plates, cups, napkins and plastic cutlery to match.
Favors: Most people appreciate food items, so consider specially decorated sugar cookies, or decorative bags of m&ms in corresponding school colors. Photos with the graduate are a unique favor – photo booth rentals are a current trend for parties and events, and can provide a special memory of the day.
Beverages: Choose your beverages wisely. If you're going to have a lot of underage people at your party, it's probably best to forego the alcoholic beverages. Non-alcoholic punch, sodas in many different varieties, lemonade, iced tea and bottled water are all popular options. Buy two-liter bottles or prepare large containers of beverages from mixes to cut down on the mess and added expense of individual bottles and cans.
Food: The biggie for your grad party is always the food. You want to make sure you have enough, but not way too much, and that most people like the type of food you're serving. (Of course, there will always be the picky guest that nobody can accommodate, so expect that and don't let it ruin your party!) Some popular menu choices for grad parties include pizza and wing trays with veggies, ranch and bleu cheese dips served on the side; taco bars that feature fixings for tacos as well as a variety of salsa and tortilla chips; cookout fare like hamburgers, hot dogs and salads; or the traditional sandwich platters featuring deli items like roast beef, turkey, ham and different cheeses. You should plan on spending between $5 and $7 per guest, which translates into about a pound of food per person.
Dessert: A beautifully decorated graduation cake is always a great way to celebrate your graduate. You can also consider serving cupcakes that are frosted in the school colors, or how about a make-your-own-sundae bar, featuring different kinds of ice cream, fudge and caramel sauces and an assortment of toppings? You'll want to plan on at least four ounces of dessert per person.
Most of all, strive to make your graduate's party a day you and your whole family – and mostly the graduate – can enjoy. This can be accomplished by a little advanced planning and with a little help. Don't try to do everything by yourself; besides, it's much more fun to shop and decorate with a friend! And, trust your local grocer, Charlie Johns, to help with the food you need for your party. You can count on them to provide deli trays, fresh meats and cheeses, salads, bakery items, beverages – you name it, they've got it! The friendly deli and meat department staff at Charlie Johns will be happy to help you select the best products for your party – just stop by the store or call them at (518) 548-7451 to learn more about how you can make your graduation party go off without a hitch!