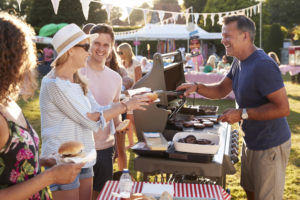 Father's Day, as well as high school graduations, are right around the corner. If you've been thinking about having a get-together with family and friends for either occasion, you should know that you can make Charlie Johns your one-stop-shop. We can help you with your party from start to finish – from the paper products you need for the table, to the perfect gift for the dad or grad of honor!
In our grocery section, you'll find everything you need to make your party a success. From great grilling meats like steaks, sausage, and burgers, to the deli meats, cheeses, and salads you need, we can help you feed your guests. Visit our bakery for rolls and dessert items, too. And, you'll want to be sure to stop into our Beer Cave, where you'll find a wide variety of beers, wine coolers, and seltzers.
And don't forget us for your gift-giving needs, too.
No matter what the dad or grad on your list enjoys, we can help you find a great gift, too. Here are just a few of the things you'll find when you visit Charlie Johns:
Camping Goods
Fishing Supplies
Books
Dorm Room Needs
Outdoor Games
Lawn & Garden Supplies
Tools & Hardware
At Charlie Johns, we take great pride in being a true general store – whether you need groceries, gifts, or anything in between. When you stop by and visit us, you'll quickly see that there's no reason to go to a big-box store. We're always ready to help you find just the right item!
Make your June celebrations easy – stop by Charlie Johns.
When you're planning your party, be sure to visit us for your needs. Our current hours are Monday – Saturday 8 a.m.-8 p.m., Sunday 8 a.m.-6 p.m. Staring in late June through Labor Day, our store hours will extend to Monday – Saturday 8 a.m.-9 p.m., Sunday 8 a.m.-7 p.m. We look forward to seeing you and helping you make your dad or grad party a success!