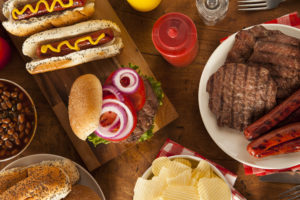 Summer has arrived in the Adirondacks, and that means it's time for fun with family and friends. One thing that almost everyone enjoys is getting together for a cookout. Whether you're planning a backyard barbecue complete with games and activities, or prefer an informal picnic dinner with those who are closest to you, having all your ducks in a row for the cookout is essential. Planning for your party in advance can make the day go smoothly, so you'll actually be able to enjoy your time with family and friends!
Food
The very first step is knowing what food you'll be serving at your cookout. Most people come for the company as much as they do the food, so keeping it simple and easy is always a great idea. Consider serving up hamburgers and hot dogs, as these are easy to grill and usually are well liked by both kids and adults. You'll probably want to plan on at least one hamburger and one hot dog per person, as well as a few extras in case someone is super-hungry or a plate gets dropped. Make sure you remember hamburger and hot dog buns, as well as condiments!
You'll also want to have a couple of different kinds of salad on hand, such as a pasta salad and a tossed salad. If you're planning on about 25 people, you'll want to have between five and six pounds of each type of salad. If you're serving tossed salad, you should have a variety of dressings on hand. You can round out the meats and salads with other offerings, such as veggie platters, fruit plates, cheese platters, crackers, and various types of snack chips. Dessert items should be as uncomplicated as possible – consider serving cookies or brownies.
Beverages
One decision you'll want to make is whether or not to serve alcoholic beverages at your cookout. If you do, you'll want to plan accordingly so that guests can enjoy a beer or wine cooler or two, but not overindulge. If you don't want to serve alcohol, but don't mind if your guests enjoy it, you can always recommend that they bring their own. You'll want to have a variety of beverages available of the non-alcoholic type as well, such as soda, water, seltzer and drink pouches for the kids. The night before your party, fill your coolers with ice, and fill them with the beverages of choice. Then seal up the coolers tightly, ensuring ice-cold drinks for your guests.
The Grill
You'll want to plan ahead to make sure you have enough grill space. If you're going to have to cook your burgers and dogs in batches, have aluminum pans and plenty of foil on hand, so you can keep them warm between batches. If you're using a gas grill, make sure you have adequate propane in your tank. If you're using charcoal, you'll want to be sure you have enough on hand. Cook your hot dogs first – they hold heat for a long time after they're cooked, as long as they're covered tightly. Start cooking burgers ten at a time as soon as guests start to arrive.
The Extras
Of course, you'll want to stock up on plates, cups, napkins and disposable cutlery. Disposable tablecloths make your surfaces look more attractive and help keep cleanup a breeze. You'll also want to have a large bin for recyclables available, as well as a large garbage can. People will probably need to use your restroom during the party as well, so make sure you have enough toilet paper, paper towels and hand soap.
One of the best things you can do to make your party planning as easy as possible is visiting Charlie Johns. We have quality meats, and we can even take special orders so you'll have exactly what you need come cookout day. And, you can get the salads you need, freshly prepared in our deli department, as well as rolls and baked goods from our in-store bakery. Plus, you'll find a wide variety of grocery items, including produce, cheeses, paper products and everything in between. Make us your one-stop shop when it comes to your barbecue – visit us today to shop our complete grocery selection.