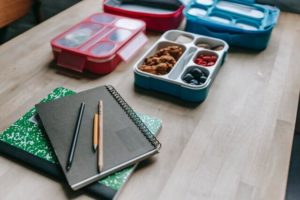 Now that the kids are back in school, you've probably had to pack a few school lunches. It can be challenging to pack lunches that provide nutrition and variety, and at the same time are foods your child will actually eat! In this article, we'll share five suggestions that can help you ensure you're packing a lunch that will keep your kiddo both fueled and happy. Keep reading to learn more!
5 Tips for Packing a Delicious School Lunch
Keep it Healthy: Of course, making sure your child gets the nutrition they need is of the utmost importance. They need a healthy lunch to help fuel both their bodies and their brains. You should aim for one serving of each of the following food groups: fruits, veggies, grains, protein, and dairy. Keeping a couple of different items from each group on hand will help you provide variety and balanced nutrition.
Keep it Tasty: Let your kids guide you on what they like from each of the food groups. For instance, if they love blueberries but dislike apples, it makes more sense to pack the berries in their lunch. It can be a fun project for them to help you plan out lunches for the week and be your grocery store helper. After all, they're more likely to eat what tastes good to them and what they've helped create!
Keep it Easy: Most families find themselves going a mile a minute on school mornings. Keep the lunch packing process as simple as possible by meal prepping as far in advance as possible, and by keeping lunch foods on the simpler side. Granola bars, carrot or celery sticks, individual serving packs of yogurt, hummus, or string cheese all help to simplify lunch packing.
Keep it Chilly: When it comes to packing a lunch, food safety is important. Most of the time, schools don't offer refrigeration when it comes to lunches from home. Therefore, you'll want to make sure your child's lunch stays as chilly as possible. Consider packing a couple of small ice packs in with the lunch, choosing an insulated lunch bag, and keeping the lunch in the fridge until the last possible moment.
Keep it Creative: There are a wealth of fun school lunch recipes (like these here) that can keep school lunches from falling flat. And, treats are okay! Keep a supply of treats, like mini chocolate bars and small packs of fruit snacks, cookies, or chips on hand, and allow your child to choose one to go into their lunch bag once in a while.
Charlie Johns can help you with your school lunch needs.
When you shop with us, you'll find the items you need to pack the perfect school lunch, from quality produce to fresh dairy items, and everything in between. Visit us today and let us help you provide your kids with a school lunch that is both delicious and nutritious!