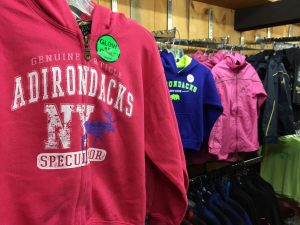 Life in the Adirondacks means there are lots of opportunities for amazing outdoor adventures. Maybe you enjoy hiking, fishing or camping in the warmer months. Or, skiing and snowmobiling during the winter might be more ideal for you. No matter, there's always something to do outside when you live or vacation in the Adirondacks. That's why you need the right clothing for your outdoor Adirondack adventures. And you may be surprised to discover the best place to find it is at our sister store, the Speculator Department Store.
At the Speculator Department Store, you'll find that they carry a vast array of outdoor gear to keep you comfortable, regardless of the activity you're participating in. There, you'll find a vast assortment of clothing that will take you season to season in style – and comfort. They'll help you stay cool in the summer months, and warm and cozy in the winter, with their complete line of men's, women's and children's outdoor apparel.
The department store offer a full line of Woolrich clothing, made from premium woolen fabric produced in the USA. These items are perfectly suited to keep you warm in the Adirondack outdoors during the cool seasons. Woolrich shirts are ideal for outdoor activities like hunting, fishing, and camping. You'll enjoy warmth and comfort when you choose this brand to meet your clothing needs.
Another great brand the Speculator Department Store carries is Carhartt. Since 1889, they've been manufacturing rugged clothing perfect for the avid outdoors enthusiast. The store carries Carhartt clothing for warm and cold weather alike, which includes jeans and work pants, shirts, sweats, shorts, tees and accessories.
They also carry a full line of coats, jackets, fleeces, water wear and footwear, so you'll be prepared for the outdoor weather in the Adirondacks – whether it rains, snows, sleets, hails or the sun shines! And, they offer a complete line of accessories – hats, gloves, mittens and scarves – perfect for those late fall hikes through the Adirondack Mountains.
Additionally, you can find locally branded t-shirts and hoodies in a variety of colors – perfect for an evening bonfire with friends. And, don't miss out on the Speculator Department Store's great line of Minnetonka shoes – they carry their quality-crafted moccasins and sandals, so you'll be able to trek through the Adirondack outdoors in comfort and style.
You'll be able to find all the clothing you need for your next outdoor adventure in the Adirondacks when you make the Speculator Department Store your one-stop apparel shop. They're located right in the heart of Speculator on State Route 8, and are open Monday through Sunday from 9 a.m. to 5 p.m.