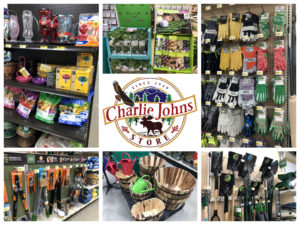 You know Charlie Johns is a great place to find all the grocery items you need. But did you know that we've expanded our hardware store as well? We want to make shopping as easy and convenient as possible for you, and we don't want you to have to travel too far out of your way to find what you need. That's why we're working to make Charlie Johns your one-stop shop.
As you know, our lawn and garden department is a great place to find what you need for your outdoor spaces. We can help you with lawn care products, plants, flowers, and tools such as shovels, rakes, hedge trimmers, and more. But you can also count on us for your indoor hardware and home improvement needs, too.
Take a look at just some of the items you'll find in the hardware store at Charlie Johns.
If you haven't shopped around in our hardware store lately, you might not know that we're carrying just about anything you'll need for home improvements, whether around your house or at camp. Here's just a small sampling of the hardware items we carry:
Lawn and garden products
Plumbing supplies
Electrical supplies
Hand and power tools
Carpentry supplies
Painting supplies
Pest & rodent control
There are so many items to choose from at the hardware store, so if you're planning a project around the house, or find yourself needing nails or screws in the middle of a project, we're ready to help meet your needs.
Skip the travel – we'll help you save time so you can get back to your improvement project!
Because Charlie Johns is conveniently located right in the center of Speculator, you won't have to waste time traveling to the city or trying to locate what you need at a big home improvement store. And, there are always friendly staff people on hand to help you find just what you're looking for. So stop into Charlie Johns today, and see what we have in store for your lawn, home, and camp needs!