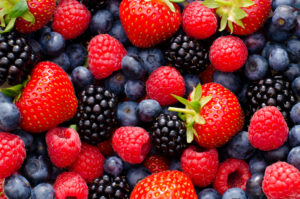 Summertime means that delicious berries are in season – strawberries, blackberries and blueberries abound in our own gardens, at the grocery store, at farmers' markets and even in the wild. While eating a handful of berries is great on its own, why not create a tasty treat for your family with delectable seasonal berries? This recipe for No Bake Berry Cheesecake is simple, and you'll easily be able to find the ingredients you need, right at Charlie Johns.
No Bake Berry Cheesecake
Ingredients
2 8-oz packages cream cheese, softened
½ cup sugar
½ cup heavy whipping cream
1 cup chopped strawberries
½ cup blueberries
½ cup blackberries
1 pre-made graham cracker crust
Extra berries for topping
Directions
In a medium bowl, beat cream cheese and sugar together until mixture is smooth and creamy. Add the heavy whipping cream and beat until stiff peaks form.
Fold in fresh berries, and spread evenly into crust. Refrigerate at least one hour, or until set. Top with additional berries and serve.