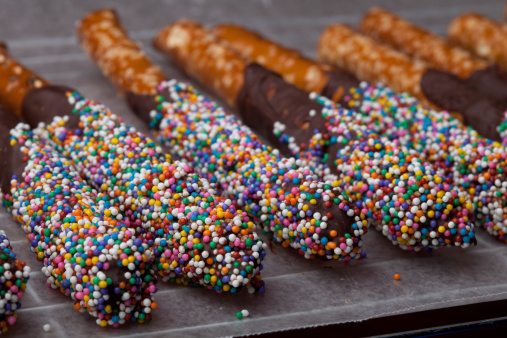 With Memorial Day celebrations right around the corner – and the return of milder weather – you may be planning a special picnic celebration with friends and family. This year, why not accent your holiday table with these edible sparklers, courtesy of Martha Stewart? Make these delicious, creative treats and place them in decorative vases on your picnic tables, and they're sure to be "extinguished" in no time!
For the pretzel sparklers, you'll need:
Two dozen pretzel rods
Four ounces semisweet chocolate, chopped (or use chips)
Sprinkles in assorted colors (we chose multicolored nonpareils)
To make the sparklers, place your chopped semisweet chocolate in a heatproof bowl set over a pan of simmering water. Stir occasionally until melted; remove from heat. Brush chocolate on the upper third of each pretzel rod with a pastry brush. Cover with sprinkles; stand pretzels upright in a glass. Place in the refrigerator until firm, about 5 minutes.
You can choose bright, multicolored sprinkles that will give your chocolate covered pretzel sparklers a brilliant "fireworks" feel, or celebrate the patriotic nature of Memorial Day by choosing sprinklers in red, white and blue colors. You'll easily be able to find all the ingredients you need to make your pretzel sparklers right at Charlie Johns in Speculator, NY. While you're there, shop for all of your other picnic needs, including meats, salads and beverages. Check out our full bakery for delicious breads, rolls, pastries and cakes, too.
Charlie Johns is located on the Four Corners in Speculator, NY. Hours of operation are Monday through Saturday from 8 a.m. to 8 p.m., and Sunday 9 a.m. to 6 p.m.