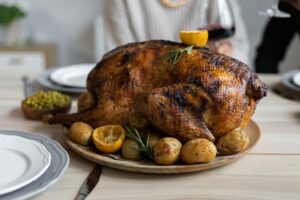 Thanksgiving is a time of year when we are reminded of the value of our family, our friends, and of course – our food. Perhaps the most quintessential of all Thanksgiving dishes is the Thanksgiving turkey.
As fowl indigenous to North America, turkey has been consumed at Thanksgiving (or other related harvest festivals) for hundreds of years. Over the years, people have come up with unique ways to prepare this poultry from roasting to deep-frying to grilling!
While there is no right way to make a Thanksgiving turkey, at Charlie Johns we have a tried-and-true method for a turkey that you and your guests will love. Follow along as we make our favorite Thanksgiving turkey from brining and preparing to roasting and carving.
Crowd-Pleasing Thanksgiving Turkey
Turkey Brine
Ingredients:
2 gallons of water, divided
1 orange, sliced
1 lemon, sliced
2 limes, sliced
1 onion, sliced
6 cloves of garlic, smashed
½ cup white sugar
½ cup dry white wine (Dry Riesling or Dry Gewurztraminer is our favorite, but any dry white wine will do)
1½ cups of kosher salt
1 tbsp black (and/or white) peppercorns
1 tbsp allspice berries
1 tsp mustard seed
1 tsp coriander seed
1 bouquet of mixed herbs ("parsley, sage, rosemary, and thyme" aren't just great lyrics, they can make for a splendid herbal bouquet)
6 bay leaves
18-20 pounds fresh (or thawed) whole turkey
Directions:
Clean the turkey, removing giblets, liver, and excess fat (set aside giblets for gravy, if desired). Rinse turkey well inside and out with cool water.
In a large stockpot over medium heat, combine ½ gallon of water with other ingredients (excluding the turkey). Bring to a boil and reduce to a simmer until salt and sugar have completely dissolved (about five minutes) and remove from heat.
Pour 1½ gallons of cool water into the pot, stir to combine, and allow to sit until cool (about an hour).
Completely submerge the turkey in brine. If additional brine is needed, mix 2 tbsp of kosher salt for every additional cup of water needed to cover the turkey. Cover and store on the bottom shelf of a refrigerator overnight or for up to 24 hours.
When ready to cook, remove the turkey from the brine and pat dry with paper towels, and place, backside down, in a large roasting pan with a bottom rack.
Thanksgiving Roasted Turkey
Ingredients:
Brined turkey (see above)
1 lemon, sliced
1 orange, sliced
1 onion, quartered
1 apple, sliced
6 cloves garlic, whole
1 bouquet of herbs (parsley, sage, rosemary, and thyme works well)
Butter mixture:
1 stick of unsalted butter
1 tsp thyme leaves
1 tsp rosemary
1 tsp parsley
1 tsp sage
1 tsp ground black pepper
1 tsp kosher salt
1 tbsp minced garlic
Juice and zest of 1 lemon
Directions:
While the turkey is brining, prepare the butter mixture by melting butter in a saucepan. Add the thyme, rosemary, parsley, sage, black pepper, salt, minced garlic, lemon juice, and zest, and mix together well. Set aside and allow to solidify at room temperature or place in fridge and soften when ready to use.
Preheat oven to 350℉.
After the turkey has been patted dry and placed backside down in a roasting pan, stuff it with lemon, orange, onion, apple, garlic, and herbs.
Generously cover the outside of the turkey with the butter mixture, and sprinkle with additional salt and pepper, if desired. Tie the legs together with string and tuck the wing tips under the body of the turkey.
Roast the turkey for 15 minutes per pound of meat, or until the juices run clear when you cut between the leg and the thigh.
Cover with aluminum foil and allow the meat to rest for 20 – 40 minutes before carving and serving.
You can find almost everything you need to make the perfect Thanksgiving turkey and more at Charlie Johns Store in Speculator, NY. Stop by today and take a look at everything we have in stock. Our dedicated team will be happy to help with anything you need, from the turkey to the pumpkin pies!