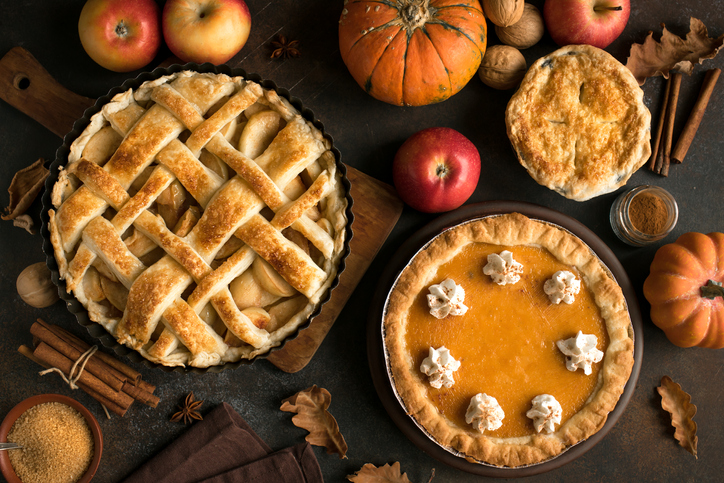 September is here, and that means apples, pumpkins and other fruits abound. And, with the weather starting to turn a little cooler, nothing says fall quite like the scent of a delicious pie baking in the oven. Baking the perfect pie can take practice, though – and while practice makes perfect, sometimes you just don't have the time to sharpen your pie-baking skills before you need to make one.
That's why we're sharing some tips with you to help you make a great pie this autumn right out of the gate. Whether you're making a two-crust fruit pie or a yummy custard pie, these tips will help you create a light, flaky crust, delectable fillings, creative flourishes – and a pie that people will be raving about.
6 Tips For Perfect Pies
Cold ingredients are key. Butter or shortening should be refrigerated until use, and the water used in the crust should be ice-cold. And, keep your dough refrigerated. Once you mix your dough, chill it immediately. That helps the flour in the crust properly absorb liquid. And, once you've rolled it out and lined your pie plate, pop it back in again to let the dough rest. If it's a two-crust pie, roll your top crust out on a flat plate while you make your pie filling.
Try to keep handling of the dough to a minimum, and use as little flour as possible. Gently patch any cracks rather than rolling the dough out again. If you handle the dough too much, it won't be tender and flaky, and if you use too much flour, it will be absorbed into the crust and make it tough.
Prebake the crust at a higher temperature when you're baking a one-crust pie. Prebaking helps keep the crust from getting soggy.
Make sure to vent your double crust pies, either by cutting slits in the top, poking the crust several times with a fork, or using decorative cutters. You need to vent the crust so steam can escape.
If your pie has a long baking time, use aluminum foil or pie shields on the crust's edges so it doesn't burn. That being said, bake your pie long enough, too. For a fruit pie, the filling needs to reach the boiling point in order for it to thicken.
Let your pie cool before slicing. If you don't allow your filling enough time to cool and set, it will be runny.
You can find all the ingredients you need for a perfect pie at Charlie Johns.
When you shop with us at Charlie Johns, you'll find everything you need to make the perfect pie. Whether you decide to make your crust from scratch or opt for a pre-made crust, we can help you find what you need. Check out our complete line of baking products when you visit our store. No time to bake but still want to serve a delicious pie to your guests? Our bakery section has a wide selection of baked goods – including tasty pies – for you to choose from.