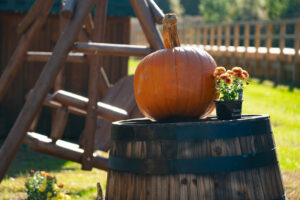 Autumn has arrived, and that means that the cooler temperatures have, too. While fall in the Adirondacks is definitely a beautiful time of year, it's also a precursor to the winter weather that will be arriving sooner rather than later.
That's why it's a good idea to use the early fall months to get your home ready for the winter season. In this article, we'll share some tips with you on what you can do to get your home fall-ready right now so that you'll be able to enjoy the season to come. Keep reading to learn more!
7 Tips to Get Your Home Fall-Ready
Fertilize Your Lawn: It's a good idea to feed your lawn before it takes its long winter nap under a blanket of snow. You can purchase commercial lawn fertilizer, and you can also mulch up your leaves instead of raking them – they can provide your lawn with much-needed water and nitrogen.
Clean Out Your Gutters: Cleaning out your home's gutters before winter hits is important. Over the summer months, organic materials like dirt, vegetation, and even insects can collect in your gutters and prevent the runoff water from flowing freely. If left unattended, that water can freeze and cause roof-damaging ice dams.
Plant Spring Bulbs: Flowers like crocuses, tulips, and daffodils should be planted in the fall so they're ready to bloom beautifully once spring arrives. You can find spring bulbs for planting at most home and hardware centers, like the one in Charlie Johns.
Check Smoke & CO Detectors: Like it or not, it'll be time to turn the heat on in your home soon. While everyone likes the warmth and comfort furnaces and fireplaces provide, they can also increase the chance of house fires. That's why it's so important that your smoke and carbon monoxide detectors are in good working order – if not, they should be replaced right away.
Check Heating System/Fireplaces: As we mentioned above, home heating is a necessity here in the Adirondacks, but it can also cause issues like fire and carbon monoxide if it's not working properly. It's a good idea to have a professional check your heating system and fireplace before the snow flies. They'll make sure your system is cleaned and maintained before winter, and any needed repairs have been made.
Weatherize Doors & Windows: Check around your doors and windows for any drafts, and take care of them with some weatherstripping. Why? Improperly sealed doors and windows let the cool air in, and the warm air out – and that can mean higher utility bills.
Reverse Ceiling Fans: When heating your home, the warm air rises to the ceiling, but the cool air stays in your living space. Reverse your ceiling fans so they're operating clockwise, and turn them to a lower speed. That way they'll help push the warm air back down into your living space, keeping you and your family more comfortable.
Charlie Johns can help you get your home ready for fall.
At Charlie Johns, we're much more than a grocery store. Visit our home and garden center to find items you need to help get your home autumn-ready. From rakes and lawn fertilizer to smoke detectors and weatherstripping, we have what you need to keep your home running smoothly, no matter what the season.