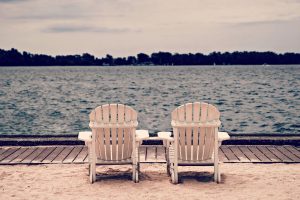 There is no shortage of lakes in New York State, especially in and around the Adirondack Mountains and there is no better time to plan a day at the lake than during the dog days of summer. If it has been a while since your last trek to the lake you may want to make a list before you pack up the car and head out for the day. Some must haves on that list should include:
Sunscreen: The importance of sunscreen can't be stressed enough. A sunburn that takes just a couple of minutes to acquire could haunt you for a week or even longer. Make sure you're wearing a waterproof SPF of 30 so that you are protected both in and out of the water. Don't forget to re-apply as necessary.
Beach Gear: Even those of us that aren't avid swimmers will only be able to resist the allure of the lake for so long before we saunter over to dip our toes in. It won't be long before you're hooked and before you know it you'll be splashing around like (or with!) the kids. Pack that swimsuit, towels and any other gear you'll need (such as water shoes, goggles and ear plugs) to make your time in the water enjoyable. You'll also thank yourself for packing sunglasses or a hat to protect your eyes from that intense summer sun.
All The Snacks: What's a day at the beach with no snacks? While there are many quick dining options at lakes throughout New York State, we recommend digging out that cooler, cleaning it up and filling it with all of your favorite snacks and drinks to keep you going throughout the day. Staying hydrated at the lake is just as important as your sunscreen application routine so pack water and other hydrating beverages among any other choice drinks for the day but remember, no glass containers. Also, packing finger foods such as wraps, fresh veggies and berries makes snacking, as well as clean up, a breeze and helps you keep on track with your summer beach body efforts as well. Keep in mind, Charlie Johns carriers all the essentials you'll need!
Entertainment: While the people watching at the lake can be wonderfully entertaining, if you're spending the day with children they're likely to grow tired of watching others. Packing a few simple toys such as a bucket and shovel or a ball can provide hours of fun for the little ones. Don't forget to toss a book or favorite magazine into your beach bag, as a day at the lake is the perfect opportunity to catch up on some reading.
Various Other Items: We would be remiss to exclude a few other day-at-the-lake necessities you'll want to be sure to at least consider. A beach umbrella and chair can make a full day at the beach a more enjoyable experience by offering an escape from the sun and multiple seating options. Hand sanitizing gel or wipes help get excess sunscreen or crumbs off your hands in a pinch when the bathrooms are just a little further away than you'd like to walk or that line is going to take up precious water time. Finally, remember to bring a little bit of cash just in case there is an unexpected entrance fee, ice cream stand or you've forgotten something that you just can't go without.
Now that you've made your list, check it twice and hit the road! Safe travels!