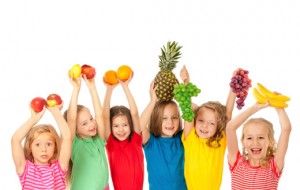 According to the American Heart Association, in America today about one in three children and teenagers is either overweight or obese – a figure that has tripled since 1963. This rise in weight problems has led to numerous new concerns for kids, including high blood pressure, high cholesterol, and a rise in Type 2 diabetes. What can parents do to help their kids achieve a healthy weight while learning lifelong good nutrition habits? Experts at the American Heart Association offer some healthy ideas that not only taste great, but are good for your kids' bodies as well.
Fruits and veggies – Helping lunches get healthier is as simple as packing fruits and vegetables that are your kids' favorite. Fruits that go well in the lunchbox include any whole fruits, like apples, pears, bananas and oranges, grapes and fruit chunks or slices. Veggies that hold up well include cucumber slices, grape or cherry tomatoes and baby carrots.
Dippity Do – Kids love to dip their fruits and vegetables, and this is your chance to add some much needed protein to their menu. Dip doesn't have to be calorie-laden; in fact there are many dip options that will up the nutritional value of your child's lunch rather than take away from it. Nonfat yogurt, peanut butter, hummus and bean dip all help to boost protein values. Salsas with whole-grain crackers help meet veggie requirements.
The Grain Game – Consider packing salads that pack a fibrous punch. Brown rice, whole-grain penne, quinoa, tabouleh and farro are all great base grain choices that you can mix up with a variety of vegetables and even fruits. For instance, tabouleh tastes great with diced cucumbers and tomatoes, and quinoa and sliced strawberries play well together.
Smart Sandwiches – Basic white bread for sandwiches is probably a kid favorite, but there are healthier options you might want to introduce your kids to, such as whole-wheat wraps or pita pockets. Consider trying different vegetable choices, such as shredded cabbage, kale, or bean sprouts. Choose luncheon meats that are lower in sodium, or use leftovers like grilled chicken breast. Natural cheeses are more nutritional than cheese foods or processed cheese products. Instead of mayo, try mashed avocado or hummus as a spread.
Also, make school lunches a family event. Talk to your kids about what they want, and explain to them the benefits of choosing healthier foods. Bring them grocery shopping with you so they can look at nutritional labels and help make decisions based on healthy eating guidelines. Letting your children help you with their lunches can make them feel empowered over their food choices, and can help nurture lifelong healthy eating habits. Not to mention, if they participate in packing their lunch, they're more likely to view it as an accomplishment – and actually eat it!
When you shop at Charlie Johns, you'll have access to all the grocery items you need to pack a nutritional lunch for your kids this school year. From our expansive fresh produce department to our full-service, quality deli section, you're sure to find everything you need to encourage healthy eating habits that will last a lifetime. Visit us today for all your back-to-school lunch needs.