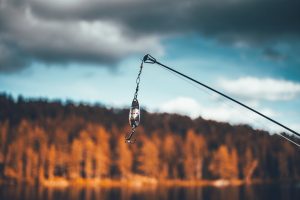 Nothing is more relaxing that heading out to the Adirondacks on a fishing excursion. Calm waters, blue skies and mountains reflecting off the lakes all make for an amazing adventure. Whether you fish from a boat or from the shore, enjoying a day angling in the Adirondacks is a great way to unwind. So when you head out on the open road en route to your fishing excursion, you'll want to make sure your tackle box is filled with all the things you'll need for your trip. The Old Farmer's Almanac provides a complete listing of the items that should be in your tackle box in order to ensure your fishing trip is a success.
While you should stock your tackle box for the type of Adirondack fishing you plan to do, there are certain staples that should be in your box at all times. The Old Farmer's Almanac suggests you pack your tackle box with the following items:
Extra fishing line
Lures
Flies
Bobbers
Swivels
Leaders
Sinkers
Needle nose pliers
Stringer
Swiss Army knife
Ruler
Scale
Flashlight
First aid kit
Sunscreen
Insect repellent
Don't have everything on the list? You can find it at Charlie Johns.
If you plan on heading to Speculator on your fishing adventure, you can find what's missing in your tackle box right at Charlie Johns. A true Adirondack general store, we carry everything you need to make your angling expedition a success. We have all of your tackle box essentials, and much more. And don't forget to stop by our grocery department, where you'll find everything you need for your cooler, from quality meats and prepared salads, to soda and beer.
Charlie Johns will help ensure that your tackle box is fully stocked and your cooler is filled with everything you need for your Adirondack fishing expedition. So stop by and visit us – you'll be glad you did!