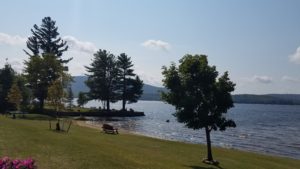 This season residents and visitors of Speculator and surrounding areas can enjoy free live music in the Village of Speculator each Wednesday.
The first annual "Music on the Point Concert Series" is brought to you by Oak Mountain Ski Center, Charlie Johns Store and Speculator Dept. Store. These local businesses are sponsoring the event for all to enjoy this summer.
Live bands will play on Osborne's Point, adjacent to the public beach, from 7— 9ish p.m. each Wednesday beginning July 10th. Families are encouraged to attend and may bring their own food and drinks.
Concerts will be held rain or shine. In case of rain, the bands will play at the pavilion, across the street from the public beach.
This summer's line up:
July 10th – The Old Main
July 17th – Logikul Soulution
July 24th – Finger Diddle
July 31st – Willie Playmore Band
Aug 7th – Luke and Mike
Aug 14th – Big Edna
Aug 21st – Logikul Soulution
Aug 28th – The Old Main
Jonathan and Lynn Lane, owners of Charlie Johns and Speculator Dept. Store, along with Matt and Laura, Kevin and Elizabeth O'Brien, owners of Oak Mountain, are pleased to support this new local entertainment and look forward to it becoming an annual event. These businesses also extend a special thank you to the Campstore for donating the banners and signage for this year's concert series.