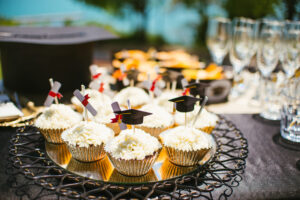 Do you have a high school graduation coming up soon, and are wondering what you can do to make the grad party a success – while minimizing stress? Like most milestone events, high school graduation is something that should be celebrated. But, it can be easy to get so caught up in event planning that it can become a stressful situation for both the party planners and the graduate. Fortunately, we have some ideas for you that can help make the party a success – and make the process much more enjoyable for all involved.
1.    Go Online with Invitations
Nowadays, many people rely on the internet and social media platforms to get their information. You can create and send email invitations on a number of websites, such as evites.com and zazzle.com. Social media platforms like Facebook allow you to create an event and invite people to it, too. Even if you're still looking for more traditional paper invitations, websites like Shutterfly allow you to create invitations and order them online.
2.    Burger Time
Nothing is easier than burgers on the grill, and creating a burger station is a fun, simple way to provide fun finger food for party-goers. You can even offer both beef burgers and vegetarian options. Create a burger station that includes cheese, lettuce, tomatoes, onions, pickles, and of course the traditional condiments like ketchup, mustard and mayo. You can purchase prepackaged hamburger buns, or order them from your grocer's bakery.
3.    Cupcakes Rule
While cakes are always the go-to dessert of celebration, when planning a grad party cupcakes are often the way to go. That's because you can provide guests with an assortment of cake and frosting options. That way, you can satisfy everyone's sweet tooth! And, cupcakes are easy to make and frost at home using boxed cake mix and canned frosting. Since they are individual servings, you won't have to worry about slicing and dishing a larger cake, either.
4.    Sundae Funday
If you're looking for something completely different for your grad party, you might want to consider an ice cream social! Provide guests with ice cream options, hot fudge and caramel sauce, chopped nuts, whipped cream, and fruits like berries and maraschino cherries so they can create their own sundaes. Don't forget the sprinkles, too!
5.    Just the Apps, Ma'am
Because so many graduation parties happen on the same day or weekend, people often come and go fairly quickly. Sometimes, the easiest thing you can do is provide appetizers and finger foods for your party guests. Veggie and fruit platters, pepperoni and cheese plates, chips, dips, salsa, and sweet treats like cupcakes and cookies are all simple to dish up and can provide on-the-run party-goers with a delicious snack.
Find the party goods you need at Charlie Johns.
You can find everything you need for a great grad party when you shop at Charlie Johns. We have the grocery, bakery, and paper items you need to make your party a success – so come on down today and let us help you celebrate your favorite graduate!