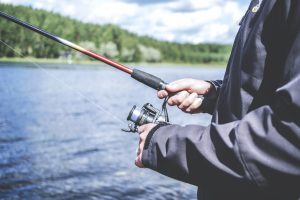 Nothing beats a day spent fishing on a beautiful lake nestled in the Adirondacks. It's a relaxing getaway – just you, the sounds of nature, and the fish. Whether they're biting or not, enjoying a fishing trip to the Adirondacks is always a great idea. Luckily, there is no shortage of places to fish in the Adirondack Park, especially in the Speculator region.
If you make Speculator part of your Adirondack fishing excursion, you'll enjoy angling at its finest. Many people who visit our region love to while away the hours on Lake Pleasant and Sacandaga Lake, casting out their lines in hope of catching the big one. There are numerous varieties of fish living in the waters of these lakes, according to the New York State Department of Environmental Conservation. The variety of fish in Lake Pleasant and Sacandaga makes them ideal locations for anglers of all types and skill levels. Common fish found in these lakes include:
Brown Trout
Rainbow Trout
Lake Trout
Rainbow Smelt
Pickerel
Smallmouth Bass
Walleye
Yellow Perch
Largemouth Bass
Brown Bullhead
Rock Bass
Charlie Johns can help you with your Adirondack fishing needs.
When you visit Speculator for some Adirondack fishing, you should make a pit stop at Charlie Johns. We can help you with all your fishing needs. That's because we carry a complete line of fishing supplies, including rods, reels, line, lures, bait and tackle. We can also help you with the incidentals you may need as well, including pliers, knives, buckets and first aid supplies (just in case you get a hook stuck in your thumb!). And, don't forget the bug spray and the sunscreen – Charlie Johns carries that as well.
And no Adirondack fishing experience is complete without food and a refreshing beverage. At Charlie Johns, you can get subs and sandwiches from our deli section that are easy to pack and enjoy while you sit around waiting for the fish to bite. Or, if you're planning on having a little campfire while you fish, grab some hot dogs from our meat section, or find all the supplies you need to make some delicious s'mores. And, make sure you stop by our Beer Cave and check out our wide variety of beer and soda. Charlie Johns is a true Adirondack general store, so we carry just about everything you could possibly need – and probably some things you didn't know you needed!
Our store is conveniently located right in the middle of Speculator. As a result, it's easy to make a quick stop when you're en route to your Adirondack fishing adventure. So the next time you decide to fish Lake Pleasant and Sacandaga Lake, be sure to stop first at Charlie Johns. We look forward to seeing you soon!