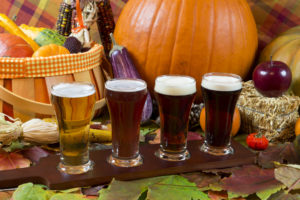 At Charlie Johns, people like our fresh grocery selection, from crisp, delicious produce to high-quality meats. But our customers can't help but love our Beer Cave, too! That's because we go way beyond providing just a couple of different brands and types of beer. When you shop with us, you'll find all the beer you need to make your Oktoberfest gathering one to remember.
We're pleased to carry all the traditional brands, like Budweiser, Coors, Genesee, and more. When you shop with us, though, you'll find a great selection of craft beers as well. From New York brews like Saranac, Ithaca Beer Co., and Brewery Ommegang to small-batch beers from other parts of the country, Charlie Johns is the place to go for your Oktoberfest brews.
Planning a get-together? Why not share this "beer-y" delicious dessert with friends?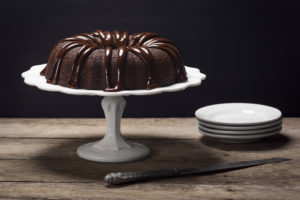 Of course, a good Oktoberfest party has great food along with delicious beer. We're sharing a dessert recipe that's sure to be a crowd-pleaser – chocolate stout Bundt cake! Stout beer and semi-sweet chocolate combine to provide a delectable treat for your party!
Chocolate Stout Bundt Cake
Ingredients
Cooking spray (like PAM)
Cocoa powder
2 ½ cups all-purpose flour
¾ tsp. baking soda
½ tsp. salt
2 sticks unsalted butter
¾ cup stout beer
12 oz. semi-sweet chocolate morsels
3 large eggs
1 cp. packed brown sugar
1 cp. granulated sugar
½ cp. sour cream
½ cup heavy whipping cream
Confectioners' sugar for garnish
Directions
Preheat your oven to 350ºF. Spray your Bundt pan with cooking spray and dust lightly with cocoa powder, tapping out any extra.
In a medium bowl, whisk together dry ingredients (flour, baking soda, salt) and set aside.
In a saucepan, combine beer and butter. Cook at medium until butter melts. Remove from heat, and add 8 oz. of chocolate morsels, and whisk until chocolate is fully melted and mixture is smooth.
Using an electric mixer on medium-high, beat eggs and sugars until fluffy. Beat in the chocolate stout mixture and sour cream. Reduce the speed and gradually add the flour mixture until combined. Do not overmix.
Pour the batter into prepared Bundt pan, and bake for about 50 minutes, or until toothpick comes out clean.
Cool cake for 30 mins. in pan, and then invert onto serving plate.
Place remaining 4 oz. of chocolate morsels in a medium bowl. In a small saucepan, bring whipping cream to a simmer (don't let it come to a boil, that will be too hot!). Pour simmering mixture over chocolate, and let stand for 2-3 minutes.
Then, stir until completely combined and chocolate is melted. While still warm, drizzle over Bundt cake, and dust with confectioners' sugar if desired.
You can find the ingredients you need for this delicious cake – plus all the beers you need for your Oktoberfest celebration – right at Charlie Johns. Stop in and see us – and explore our Beer Cave – today!