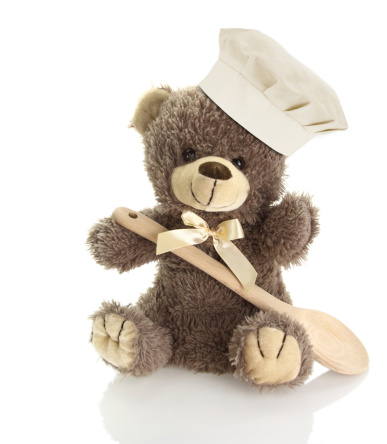 We have a friend who everyone – including her kids – calls Mama Bear. She loves to spend time creating recipes in her kitchen, and her favorite types of dishes to share with friends and family are comfort foods. She'll bring you a casserole filled with macaroni and cheese as a housewarming gift, a kettle of chicken noodle soup when you're not feeling well, and if you're lucky, a crock of her spicy pulled pork when the mood is more festive. This weekend, she was busy in her kitchen preparing a family favorite – chicken and biscuits. Her son says that if everyone sat down around a table filled with Mama Bear's chicken and biscuits, it might just bring world peace. She's shared her recipe with us so you can see for yourself!
Mama Bear's Chicken & Biscuits
For the Chicken:
6-8 chicken legs, skin removed
Bouillon cubes
Old Bay seasoning
Salt
Pepper
Fill up a large saucepan with water. Add two chicken bouillon cubes, salt, pepper and Old Bay seasoning to taste. Add the chicken legs to the pan. Stew over med-low heat for about an hour.
For the Biscuits:
While the chicken is cooking, prepare the biscuits.
3 cups flour
2 tbsp. sugar
3 tsp. salt
2 tbsp. baking powder
1 1/3 cups milk
2/3 cups Butter Flavor Crisco
Preheat oven to 425 F. Add flour, sugar, salt and baking powder to large mixing bowl and whisk gently until all dry ingredients are incorporated. Make a well in center and add milk; stir gently until moist. Add shortening, mixing with your hands until the ingredients are incorporated. Turn onto well-floured surface and knead eight times. Divide in half. Pat one round of the dough to about 1/2 inch thick, cut with biscuit cutter (I use a glass). Do the same with second half. Place biscuits on greased cookie sheets (closer together for softer biscuits, further apart for crispier ones). Bake 10-14 minutes, or until tops are lightly browned.
For the Gravy
3 tbsp. butter
4 tbsp. flour
2 cups chicken broth (reserve from chicken you cook)
1 tsp. salt
1/4 tsp. pepper
Once your chicken has cooked, it should easily fall off the bone and pull apart with fork. Reserve 2 cup of the broth you cooked your chicken in, and discard the rest. Pull chicken from bones, making sure no bone remnants remain. Set aside. In a large saucepan, heat the butter to melted, then add flour and whisk thoroughly to create a roux. Slowly add the broth, whisking between each addition of broth. Add salt and pepper and continue to blend until mixture thickens. Add chicken to gravy, heat together until chicken is hot.
Cut open biscuits and butter, and pour chicken gravy over. Enjoy!
You can find everything you need to make Mama Bear's Chicken & Biscuits right at Charlie Johns. From our quality meat section to our extensive spice aisle, you'll get the best ingredients at competitive prices, every day. Visit us this winter from 8 a.m. to 8 p.m. Monday through Saturday, and from 9 a.m. to 6 p.m. Sunday.