When you think of spring, you probably think of seeing all the birds you've missed throughout the winter, like robins and bluebirds and of course, the littlest of all, the hummingbird. We've talked about ways to bring hummingbirds to your home and garden, but now we'll talk about bringing them into your kitchen. No, not actual hummingbirds, but delightful hummingbird cake!
We're sharing a wonderful recipe for hummingbird cake from Martha Stewart, and don't forget – all the ingredients you'll need for the cake and frosting are readily available at Charlie Johns in Speculator. We hope you enjoy this delicious recipe as much as we do – to quote Martha, "It's a good thing!"
Martha Stewart's Hummingbird Cake
Ingredients
For The Cake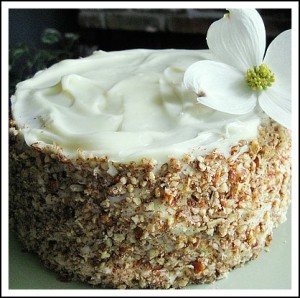 Nonstick vegetable spray
All-purpose flour, for pans
3 cups self-rising flour
2 cups granulated sugar
3/4 cup vegetable oil
1/2 cup finely chopped pecans
2 very ripe large bananas, mashed
1 (8-ounce) can crushed pineapple, with juice
1 teaspoon pure vanilla extract
1 teaspoon ground cinnamon
4 large eggs, beaten
For The Frosting
1 pound (1 box) confectioners' sugar
8 ounces cream cheese, room temperature
6 tablespoons (3/4 stick) unsalted butter, softened
1 teaspoon pure vanilla extract
1 tablespoon milk, or more if needed
1/2 cup finely chopped pecans
Directions
Preheat oven to 325 degrees. Spray and flour three 8-by-2-inch round cake pans, tapping out excess flour; set aside.
Prepare the cake; in a large bowl, stir to combine self-rising flour, sugar, oil, pecans, bananas, pineapple, vanilla, cinnamon, and eggs.
Divide batter evenly between prepared pans. Bake, rotating pans halfway through, until the tops spring back when gently pressed with your fingertips, 26 to 28 minutes.
Transfer pans to a wire rack to cool 10 minutes. Invert cakes onto wire rack. Re-invert cakes and let them cool completely, top sides up.
Prepare the frosting; in the bowl of an electric mixer, combine sugar, cream cheese, butter, vanilla, and 1 tablespoon milk on medium speed until frosting is smooth. If needed, add more milk, 1 teaspoon at a time, to achieve the proper spreading consistency.
Place the first layer on the cake plate. Spread the top of the first layer with 1/4 of the frosting. Place the second layer on top and repeat process with another 1/4 of the frosting. Place the remaining layer on top of the second layer bottom side up. Spread entire cake with remaining frosting. Sprinkle the top with pecans. Refrigerate until ready to serve.