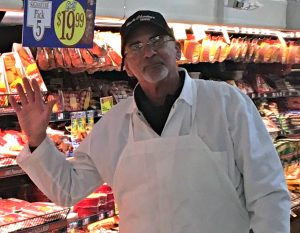 Greetings!!  I'm Bob Joy, your new Meat Manager here at Charlie Johns.
What brings me to Speculator?  Glad you asked.  I have been vacationing and camping with my family in this area since I was a child.  Keeping with the tradition, I started coming here with my own family. I always had a desire to eventually live and work up here, so when the opportunity came up, I seized it.
What I bring to you is nearly 40 years of meat cutting experience.  My focus is customer service. Working for the cutting-edge Wegmans Company for many years, customer service has always been a priority. I offer you a wide variety of fresh cut meats, and our fabulous Pick 5 program!  With this deal, you get to pick out 5 different packages of meat (beef, pork, chicken or frozen meat items) – you pay only $19.99.  The savings is like buying bonus packs, but you decide what will be included!!
So, come on in and say hello! I look forward to meeting you.  Special requests are always welcome.
Bob Joy