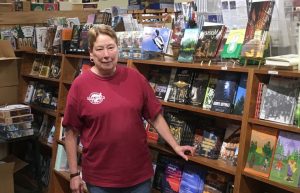 Q: When did you begin working at Charlie Johns Store? What is your current job/title at the store?
I started back in June of 1975 as a cashier in the original store. Since then I have worked my way up, taking on more responsibilities, and am now a department manager and sort of a "jack of all trades" within the store.
Q: What made you decide to apply to Charlie Johns Store?
I was newly married and looking for a job in the area.
Q: What are your main responsibilities at the store?
I manage the book department, health and beauty care department, and assist with the general merchandise. In addition, I'm in charge of accounts receivable, the lottery, and handle some of the bookkeeping. With a small store, and once you've worked there for so long, you become versed in many areas!
Q: What do you enjoy most about your job?
I like the daily interaction with the public. I also love the staff and have made some very good friends here.
Q: What kinds of activities are you interested in or involved with outside of work?
I love reading, crafts, and being a beach bum – when the weather cooperates.
Q: How long have you lived in the area?
44 years
Q: What do you like best about Charlie Johns Store and/or the Speculator area?
Charlie Johns (aka CJ's) is a very unique place. Many customers have referred to it as a mini-Walmart. I love the friendly atmosphere and the laid-back, comfortable working conditions. As a native "Adirondacker," I love my mountains!