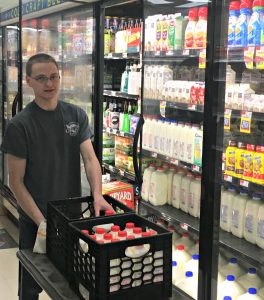 Q: When did you begin working at Charlie Johns Store?
I started working at Charlie Johns Store in the summer (June) of 2003 while still attending high school.
Q: What made you decide to apply to Charlie Johns Store?
I applied to Charlie Johns Store because one of my close friends was already employed here, and I liked the fact that there was the potential for year-round employment.
Q: What are your main responsibilities at the store?
Where do I begin?! I first started working as a Dairy/Frozen clerk stocking shelves and working alongside my direct supervisor at the time, Joan Lent. As the years went on, Joan had me participate in writing warehouse, ice cream and milk orders. When Joan retired in 2009, I stepped into the role of Dairy & Frozen Department Manager.
I became involved in the front-end as a cashier around February 2009, and after a few years became the acting Scan Coordinator. I am involved with a lot more behind the scenes than many people may realize!
I take my responsibilities very seriously here and enjoy learning new things. Sometimes I am amazed by how much I can handle, but every new job thrown my way just becomes part of my routine once I find a way to fit it in.
I am always busy!
Q: What do you enjoy most about your job?
I am a "people person" and have always liked interacting with the public. I also enjoy the level of responsibility that I have been given over the years and being able to always learn new things.
Q: What kinds of activities are you interested in outside of work?
Outside of work I am mostly involved with my family. My wife and I just celebrated our second anniversary and our son just celebrated his first birthday!
When I have time, I enjoy traveling and learning foreign languages. I am currently fluent in English and Spanish, although it has been a while since I have had to use it. I know bits and pieces of French, Russian, Italian, Portuguese, and recently started learning the spoken form of Mandarin Chinese.
I am always ready to "go."  So far, my travels have taken me to Canada, Colombia (South America), Hong Kong, Japan and the Philippines. I hope to see more parts of Asia in my lifetime.
Q: How long have you lived in the area?
I have lived in the area my entire life… almost 30 years.
Q: What do you like best about Charlie Johns Store and/or the Speculator area?
What I like about Charlie Johns is that we are like a family, and a variety of people, with the change of the seasons, are always passing through. You just never know what language you will hear spoken in one of the aisles in the summertime!