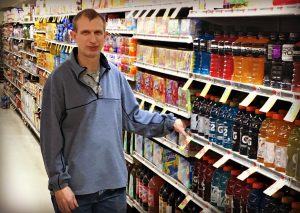 Q: When did you begin working at Charlie Johns Store? (include original job function/title and promotions if available)? What is your current job/title at the store?
I started working at Charlie Johns in 1984, unloading groceries from the delivery trucks. Since then I've taken on more responsibilities and have been promoted to Grocery Manager.
Q: What made you decide to apply to Charlie Johns Store?
I was born and raised in the Lake Pleasant/Speculator area and wanted to stay here; Charlie Johns Store gave me the opportunity to do just that. I've now been in this town for 53 years and love it here.
Q: What are your main responsibilities at the store?
As Grocery Manager, my main responsibilities include ordering and receiving merchandise, stocking shelves, and maintaining a good store appearance. I also supervise other stock clerks.
Q: What do you enjoy most about your job?
The thing I enjoy most about my job is working with my fellow employees and the public. I also like working on various odd jobs or special projects that are entrusted to me.
Q: What kinds of activities are you interested in or involved with outside of work?
I keep busy outside of work. I am very involved with my Church and Worship Praise Team, I play banjo for Azalia and the Good Ole Boys, I am President of Lake Pleasant Volunteer Fire Department, member of H.A.M. (amateur radio club), and Vice President of Lake Pleasant School Board. But most importantly of all, I am a husband and father.
Q: What do you like best about Charlie Johns Store and/or the Speculator area?
What I like best about Speculator and Charlie Johns Store, is that no matter what time of year it is, you see people in the aisles visiting and catching up on old times.