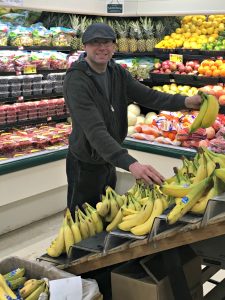 Q: When and how I began working at Charlie Johns Store?
In 1999, when I was in my late teens, I began working at CJs in the greenhouse located outside in front of the store in the summers. There, I would sell pool, swimming, lawn, and garden products. Eventually I moved into the store to help stocking shelves and working the cash register. I've now been working for Charlie Johns for 18 years!
Q: How did you begin working in Produce?
One summer, Ruth Rowe, the Produce Manager at the time, needed additional help. I started helping her fill the case and unload produce deliveries. Eventually, Ruth planned to retire, and I was asked to become an apprentice under her. With my background of horticulture and floristry, I was able to also cover the floral department (which is part of the Produce Department) while learning the full responsibilities of Produce Manager. I've now been the Produce Manager for 6 years and love it!
Q: What do you like best about your job?
I am a perfectionist and have quite an imagination. I enjoy the freedom to redisplay the produce and see what appeals to the customer the most. Because Speculator is a place where people come to enjoy summer and winter fun, I enjoy meeting people of different countries and backgrounds. Why have the need to explore the world when the world comes to you, right here at Charlie Johns Store?
Q: What do you like best about Charlie Johns Store?
A: I LOVE the books. Charlie Johns Store has one of the best collections of Adirondack books and resources you will ever find. The Adirondack knowledge of history, science, and adventures is at my fingertips. I also love it when the bakery makes their homemade Pepperoni and Garbage Bread. Oh it is so good!