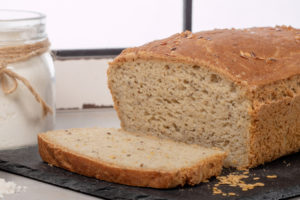 With most of us staying in these days, bread baking is on the rise (no pun intended). We know that sometimes finding all the supplies you need to bake bread can be difficult, as flour and yeast are a hot commodity right now. But did you know you can make delicious bread at home – with beer? Beer bread is tasty, filling and goes great with hearty meals like roasts and stews. It also toasts up nicely, and makes tasty sandwiches, too! Best of all? It is incredibly simple to make, with just a few ingredients. You'll find everything you need for beer bread at Charlie Johns, too!
Beer Bread
Ingredients
3 cups self-rising flour
1 to 4 tbsp. sugar, to taste
4 tbsp. melted butter, divided
1 1/2 cups beer
Directions
Preheat oven to 375ºF. Lightly grease a 9″ x 5″ loaf pan.
Mix flour, sugar, 3 tbsp. of the melted butter, and the beer, stirring until smooth (there may be a few small lumps).
Spoon batter into prepared pan and smooth the top, drizzling with the remaining tablespoon of melted butter.
Bake for 45-50 minutes, or until a toothpick inserted 1/2″ into center of loaf comes out clean, or with a few moist crumbs.
Allow to cool for 5 minutes, turn out onto baking rack. Cool completely before slicing, and store in an airtight container.