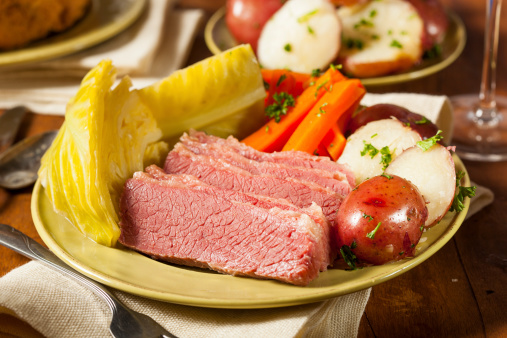 March is here, and that means it's that time of year when everyone becomes just a little bit Irish. Although not traditional at all on the Emerald Isle, corned beef dinner has become a staple of American St. Patrick's Day celebrations. You don't have to spend your St. Patrick's Day in a hot kitchen this year, though – we've found a great recipe for crock-pot corned beef dinner that will surely impress your family and friends.
Combining all the elements of St. Patrick's Day dinner, this recipe will make everyone's eyes smile – and mouths water. And, you can find everything you need for your St. Patrick's Day feast right at Charlie Johns – from our high-quality beef briskets and our fresh, delicious produce to the beer you need to braise it in, we have you covered. And, check out our selection of delicious St. Pat's-themed bakery items to round out your feast! Here's the recipe, courtesy of food.com.
Crock Pot Corned Beef in Beer
Ingredients:
4 lbs corned beef brisket
6 medium potatoes, peeled and quartered
2 medium onions, peeled and quartered
1 cup thinly sliced carrots
1 bay leaf (two if small)
1 cup beer (we chose Guinness)
1 small cabbage, cut into wedges
Directions:
Place potatoes, onions, carrots and bay leaf in crock-pot.
Trim excess fat off brisket and place meat on top of vegetables.
Place cabbage wedges on top of meat.
Pour beer over all.
Cover and cook on low heat setting for 9-11 hours, depending on your crock-pot.
When fork-tender, remove from crock-pot and allow to rest for 5 to 10 minutes for easier slicing.
Serve with vegetables.
A delicious addition to this meal is traditional Irish soda bread, served warm with butter. For dessert, make sure you check out the variety of cakes, cookies and cupcakes, wearin' the green for your holiday festivities and available in our bakery section. And remember – Easter is early this year, so make sure you stop in for your eggs for coloring and Easter dinner necessities! Thanks for choosing Charlie Johns for all your holiday needs.