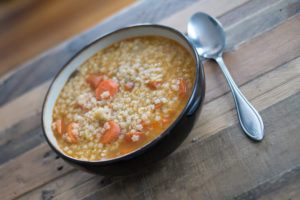 The winter months in Speculator offer a lot of different fun activities – from downhill skiing and snowshoeing to ice fishing and snowmobiling. There is truly something for everyone, whether you love the great outdoors or would prefer to read a book by the fireplace. While winter is enjoyable, it can also be time for the sniffles. Nobody loves not feeling well, but sometimes a nice hot bowl of chicken soup can make it a bit more bearable. We don't profess that this recipe for chicken soup can cure a thing, but it's sure to provide some winter comfort. It may even remind you of the soup your mom gave you when you were a kid and stayed home from school!
"Sick Day" Chicken & Stars Soup
Ingredients
1 tablespoon vegetable or olive oil

1 ½ cups diced onion

1 cup diced carrots

1 cup diced celery

1 clove garlic, minced

8 cups chicken stock 

2 cups chopped cooked chicken breast

2 bay leaves

½ teaspoon dried rosemary

½ teaspoon salt 

½ teaspoon dried thyme

¼ teaspoon black pepper

1 cup dried stelline (star-shaped pasta)
Directions
Heat oil in a large stockpot over medium-high heat. Add onion and saute for five minutes, stirring occasionally. Add carrots, celery, and garlic and saute for an additional two minutes, stirring occasionally. Add chicken stock, chicken, and herbs and spices, and stir to combine.

Bring the mixture to a simmer, then reduce heat to medium and stir in the star pasta.  Continue cooking the soup over a simmer until the pasta reaches al dente and is soft yet still slightly chewy, stirring occasionally so that the pasta doesn't stick to the bottom of the pot.  Taste and season with additional salt and pepper or herbs, if needed.

Serve immediately. (If the soup sits, the pasta will continue to expand and you may need to add 1-2 cups more of chicken stock.)
Find the ingredients you need at Charlie Johns. 
You'll be able to find everything you need for this recipe right at Charlie Johns. From quality dry goods and spices to fresh poultry and produce, we have a full selection of grocery items for you to choose from. Stop in today and make this delicious, comforting soup for your loved ones!