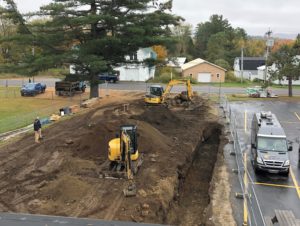 Charlie Johns Store is expanding their footprint with a new addition to offer more convenient products to the community.
Many have noticed the activity in front of the store, which is celebrating its 80th year in business. The greenhouse, which used to house seasonal items, including lawn and garden supplies, was dismantled and removed. The adjacent tent and trellis structure were also taken out to make way for a 2,880 sq. ft. addition and wrap-around porch.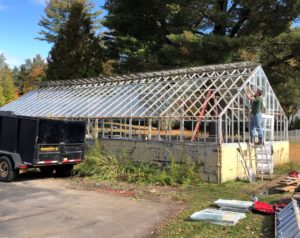 The construction crew from Pro Care used heavy equipment to clear the area, breaking ground on October 1st and have now poured the foundation for the 30×96-foot building. The new structure will extend from the front right side of the existing building, opening up the current produce department that will lead to the addition. The plans also include a new entrance and check-out counter that will be open during the peak seasons, according to the store's owner, Jonathan Lane.
"We are looking forward to the changes to come. We will be expanding our current offerings, particularly the general merchandise and hardware sections," commented Lane. "The seasonal items and lawn and garden products will also be located in the new area."
Lane intends to re-organize the "Middle Aisles" since much of those products will be moved to the new space. He hopes the changes will enable them to create newer displays and improve traffic flow in those aisles.
"We hope our customers are as excited as we are with this new change. Our goal is always to continue to improve our operation to better serve the community," said Lane.