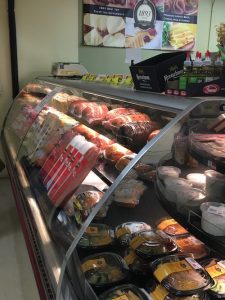 Ah, the holidays! It's the most wonderful time of the year – except during those times when it isn't! We all know the holidays are a time of love, peace and joy, and sharing special times with friends and family. But sometimes, it's also pretty easy to get caught up in all the hustle and bustle of gift shopping, party planning and decorating. Luckily, there is a way you can simplify at the very least your party planning – by letting Charlie Johns help you with all your food needs!
At Charlie Johns, you know we have all the grocery items you need to create meals for your family all week long. But we can also help make it easier for you to enjoy your next holiday gathering, just by leaving the cooking to us! So whether you're planning a small get-together for family, a larger celebration for all your friends, or your work's office party, we can keep everyone well fed with a variety of different food choices.
Here's how we can help you simplify:
Deli Salads: We have store-made fresh deli salads that include macaroni, potato, pasta and ham. We would be happy to take an order if you need a larger quantity of salad for your get together.
Made-to-Order Sandwiches & Platters: Who doesn't love sandwiches? You can order a variety of different sandwiches for your party, or you can choose a meat and cheese tray, made to your specifications, for your holiday party or family gathering.
Hot Foods: We offer delicious hot foods, such as rotisserie chicken, lasagna and more. Perfect options for when you need to break for a quick, delicious lunch amidst the holiday hustle and bustle.
Bread & Rolls: Our bakery section bakes fresh daily, so you can offer your guests a variety of bread and rolls that is as good as homemade! If you need a larger quantity, just let us know at the bakery and we can bake to order for you!
Sweet Treats: In addition to bread and rolls, you'll also find delicious desserts in our bakery area as well. Cookies, cakes and pies made in-store are available, as well as special holiday-themed treats. We also carry local favorites, such as Hemstrought's half-moon cookies.
Of course, you can rely on Charlie Johns for all of your party goods, from paper products and disposable cutlery to condiments and items for the relish tray. Just stop into the store and our helpful bakery and deli staff will be more than happy to assist you with your holiday party needs. This year, enjoy stress-free get-togethers – with the help of Charlie Johns!