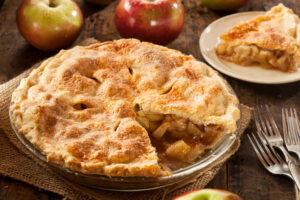 The arrival of Autumn marks the beginning of one of the most popular cultural debates, "what is the superior fall flavor?" Some people are firmly grounded in the pumpkin spice camp, while others contest apple cider as the true hallmark of fall. One of our favorite fall flavors, however, has existed for centuries and has made a bit of a pop culture resurgence in recent years; apples and cheddar cheese.
According to Gastro Obscura, the tradition of melting cheese on top of a slice of pie or serving apple pie with a piece of cheese has evolved from the 17th-century English tradition of serving pie with a dairy-based sauce, and later Wensleydale. English settlers in the Northeastern United States substituted cheddar for the Wensleydale or dairy-based sauce, and the rest is history. While some people find the flavor combination unusual or strange, we firmly believe that "apple pie without the cheese is like a kiss without the squeeze!"
For those that are skeptical of the flavor combination, we have a great way to delicately incorporate cheddar with an apple pie that even the pickiest of eaters will try. One of our favorite fall recipes is cheddar-crusted apple pie, where warm, gooey apple pie filling is complimented with a flaky, cheese cracker-like crust. The recipe for both our cheddar crust and our apple pie is adapted from Martha Stewart's Apple Pie with Cheddar Crust recipe with just a few tweaks that we have added over the years. Check out our recipe for an apple pie that is sure to satisfy you.
Cheddar-Crusted Apple Pie
For the Cheddar Pie Crust
Ingredients:
2 ½ cups all-purpose flour (spooned and leveled), plus more for rolling
1 tablespoon sugar
1 teaspoon kosher salt
¼ cup (½ stick) cold unsalted butter, cut into pieces
½ cup cold vegetable shortening, cut into pieces (we use Crisco® Butter Flavor All-Vegetable Shortening)
1 ½ cups shredded sharp white cheddar (6 ounces)
¼ to ½ cup cold vodka*see note
Directions:
Using a pie dough blender or two forks, mix flour, sugar, and salt. Add butter, shortening, and cheddar; blend until the mixture resembles a coarse meal with a few pea-size pieces of butter remaining. Sprinkle with 1/4 cup vodka. Mix until dough is crumbly but holds together when squeezed (if necessary, add up to 1/4 cup more vodka, 1 tablespoon at a time). Don't overmix.
Turn out dough onto a floured surface and divide the dough (one portion should be slightly larger than the other). Shape each portion into a disk. Wrap each disk separately in plastic and refrigerate until firm, about 1 hour or up to 1 day. (Dough can be frozen for up to 1 month; thaw overnight in the refrigerator before using.)
*While vodka in pie crust may sound strange to some, we find that it gives the finished crust extra flakiness and the alcohol cooks off during the baking process. Because vodka has a much lower freezing point (and boiling point) than water, it can be stored in the freezer until you are ready to use it, guaranteeing that it will keep your pie dough cold. If you don't keep vodka around the house or are hesitant about using it, cold water will work just fine.
For the Cheddar-Crusted Apple Pie
Ingredients:
Cheddar Crust
1 ½ pounds (about 3) Granny Smith apples, peeled, cored, and cut into ¼-inch-thick wedges (or cubes if you prefer a gooey apple pie)
2 pounds (about 5) Cortland (or any variety) apples, peeled, cored, and cut into ¼-inch thick wedges (or cubes if you prefer a gooey apple pie)
½ cup white sugar, plus extra for sprinkling
½ cup brown sugar
½ cup all-purpose flour
2 teaspoons fresh lemon juice
1 teaspoon bourbon (optional)
¾ teaspoon ground cinnamon
¼ teaspoon freshly grated nutmeg
¼ teaspoon salt
⅛ teaspoon ground cloves
2 tablespoons unsalted butter, cut into small pieces
1 large egg, beaten
Directions:
Preheat the oven to 450 degrees. Divide the dough into two pieces. On a lightly floured work surface, roll out each to a 13-inch circle.
Fit one circle into a 10-inch pie plate; transfer the plate to a baking sheet. Put the other circle on another baking sheet. Refrigerate dough until cold, at least 30 minutes.
Stir together apples, sugar, flour, lemon juice, cinnamon, nutmeg, salt, bourbon, and cloves. Spoon into the bottom pie crust. Dot filling with butter. Cover with top crust. Fold edges over; crimp decoratively to seal. Cut a steam vent. For a fun fall motif, cut a center steam vent in the shape of a maple leaf.
Brush with egg and sprinkle extra white sugar on top. Bake pie for 10 minutes. Reduce oven temperature to 350 degrees. Bake until golden brown, about 45 minutes. Tent with foil; bake until juices are bubbling, about 45 minutes more. Let cool at least 1 1/2 hours before serving.
You can find everything you need to make this apple pie – and more – at Charlie Johns Store in Speculator, NY. Stop by today and take a look at everything we have in stock. Our dedicated team will be happy to help with anything you need.