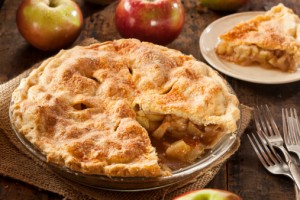 With autumn well underway here in the Adirondacks, there is no doubt you have already been inundated with all the flavors of the season, such as apple and pumpkin spice. You may even have an abundance of apples from your own trees, but aren't sure what you can do with them. Of course you can make any number of delicious apple treats, like applesauce or apple butter. But when it comes to making a home baked pie, why not create something that's a delightful departure from the traditional? Why not try this recipe for apple-Gruyere pie – a blend of sweet, tart and savory that's sure to please even your most particular pie enthusiasts!
For the Crust:
2-½ cups all-purpose flour
1 tsp. salt
1 tbsp. sugar
20 tbsp. butter – cut into 1 tbsp. pats and stored in refrigerator
2 oz. Gruyere, finely grated
7-8 tbsp. ice water
Mix flour, salt, sugar and Gruyere in a large mixing bowl. Using a pastry cutter or your fingers, cut in the butter until no large pieces remain – until the largest pieces are the size of peas. Sprinkle ice water over the flour by the tablespoonful; toss with fork. When dough clumps together when squeezed, gather into two discs, one slightly larger than the other. Wrap in plastic and refrigerate overnight.
For the Filling:
3 lbs tart red apples
½ cup sugar
1 tbsp. lemon juice
1/8 tsp. cinnamon
5 tsp. cornstarch
1 egg, lightly beaten (to go on crust)
Preheat oven to 400ºF. Remove dough from refrigerator.
Peel, core and slice apples thinly. Mix with sugar, lemon juice, cinnamon and cornstarch. Roll the larger piece of refrigerated dough into a 14-inch disc. Place in a 9-inch deep-dish pie plate. Pile apples into pie plate, topping the apples with any juice left in the bowl. Roll out smaller round of dough to about 12 inches; place on top of apples. Seal the two crusts together by fluting the edges, brush top crust with egg, and make three slits in the crust so steam can escape. Place pie on cookie sheet (to catch drips). Bake pie 50-60 minutes. Cool before serving.
You'll be able to find the ingredients for this unique pie at Charlie Johns right in Speculator, N.Y. We'll be happy to help you find everything you need for this and all of your fall baking needs.