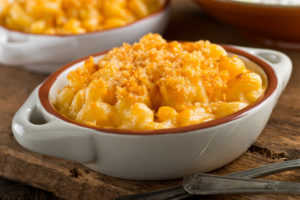 When the winter weather hits, people tend to leave behind the lighter fare of summer and turn to heartier, familiar dishes that not only keep their tummies full but offer them familiar comfort as well. Soups, stews, and casseroles are all dishes that many of us turn to when the weather outside turns frightful. Researchers have actually looked into why people turn to "comfort food" in the winter, and the results are not really that surprising.
Of course, one of the biggest reasons people like these types of foods in the winter is familiarity. Chances are, we enjoyed stews and casseroles growing up, and when the weather turns dark and dreary, we look to those things that give us happy memories – like a nice bowl of beef stew or a helping of chicken and biscuits.
On a more scientific level, comfort foods usually send "feel good" chemicals to the brain, so in a sense, eating these types of dishes can elevate our mood, at a time of year when Vitamin D is minimal. And of course, our ancestors tended to be a little more dormant in the winter than we are nowadays, but that doesn't mean once winter hits, our good old DNA doesn't want carb and protein-rich food like our ancestors ate in winter!
Looking for a great comfort food recipe? Try out this one for macaroni and cheese!
Homemade macaroni and cheese is a favorite comfort food for people of all ages. Why? Most agree that it's not only delicious but also pretty easy to make! Check out this recipe – you can find all the ingredients you need at Charlie Johns!
Macaroni & Cheese
Ingredients
1 pound uncooked elbow macaroni
½ cup butter
½ cup flour
1 ½ cups whole milk
2 ½ cups half-and-half
4 cups grated sharp cheddar cheese, divided
2 cups grated Swiss cheese, divided
½ tbsp. salt
½ tsp. black pepper
¼ tsp. paprika
Directions
Preheat oven to 325ºF. Grease 13"x9" baking dish.
Cook macaroni according to package directions, except one minute less than the time indicated for al dente. You will want your pasta a bit undercooked because it will cook some more in the oven. Drain, and toss with a bit of oil to keep it from sticking together.
While water is boiling, grate cheeses (if you didn't purchase pre-grated). Mix your Cheddar and Swiss cheeses together and divide into three portions: 3 cups for sauce, 1 ½ cups for the inner layer, and 1 ½ cups for the top.
Melt butter in a large saucepan over medium heat, and whisk in flour to combine and make a roux. Cook this for one minute, whisking often. Slowly pour in milk and half-and-half, whisking constantly until smooth. Remove from heat, and stir in half of the 3-cup portion of cheese and spices until blended and melted. Then, stir in the rest of the 3-cup portion until melted.
In a mixing bowl, mix the cheese sauce and macaroni until fully combined. Add half of the mixture to the greased pan, cover with 1 ½ cups cheese, add the rest, and top with the remaining 1 ½ cups cheese. Bake in preheated oven until the top becomes golden brown and bubbly, about 15 minutes.