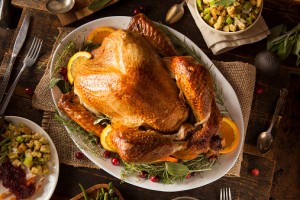 Apple cider is almost synonymous with the fall season, and turkey is almost synonymous with Thanksgiving. You might be surprised, though, that bringing these two great flavors together for your Thanksgiving dinner can provide a fresh twist to your holiday dinner and make your guests rave about your meal for years to come. We're sharing with you this recipe for Spiced Apple Cider Brined Turkey from the University of Illinois. Be sure to visit their website to find out more information about how you can make the most out of your turkey this Thanksgiving, as well as nutrition and food safety facts. And remember – you can find all the ingredients you need for this turkey recipe and all of your other Thanksgiving dishes right at Charlie Johns. Enjoy – and have a wonderful Thanksgiving with your loved ones.
Spiced Apple Cider Brined Turkey
Ingredients
For the Brine:
4 cups water
½ cup kosher salt
½ cup sugar
3 whole cloves
1 teaspoon black peppercorn, cracked
2 bay leaves, broken into pieces
4 slices fresh ginger
1 teaspoon whole allspice, crushed
½ gallon unsweetened apple cider, chilled
12 to 14 pound turkey, either fresh or completely thawed
For the Stuffing:
1 cup chopped celery
1 cup chopped onions
1 cup chopped carrots
Zest of one lemon or orange
For Basting:
Olive oil or butter
Kitchen Tools:
2 large oven-cooking bags for
Large stockpot
Large roasting pan
Directions
Using s spice grinder, crush the peppercorns and allspice into large pieces. In a 4-quart saucepan, combine water, kosher salt, sugar, cloves, peppercorns, bay leaves and ginger. Stir while bringing mixture to boil over medium heat. Boil gently for two minutes; remove from heat.
Add chilled apple cider; stir to combine. Refrigerate brine while preparing the turkey.
Remove turkey from wrapper. Remove giblets and neck from body cavity and neck area. If desired, refrigerate these parts for making gravy stock later.
Rinse turkey inside and out under cold running water. Twist wing tips and tuck behind turkey. Place the two oven cooking bags one inside the other and set in the large stockpot. Place the turkey breast side down in the bags.
Pour chilled brine into turkey cavity and around outside of turkey. Pour an additional two cups cold water around turkey. Secure bag with a twist tie. Refrigerate turkey for 12-14 hours.
To Prepare the Turkey
Remove turkey from brine, rinse under cold running water inside and out, and pat dry with towels.
Place turkey on platter and refrigerate several hours or overnight, to allow the skin to dry. If you prefer less crispy skin, you can omit this step.
Preheat oven to 350 F. Place turkey in a heavy roasting pan. Stuff turkey with chopped vegetables and zest. Tie legs together and tuck wings under bird.
Cover the skin with softened butter or olive oil. Add one cup of water to the bottom of pan and place turkey in preheated oven. Cooking time varies based on weight – check the wrapper and cook according to weight. Roast the turkey until temperature in the innermost part of the thigh reaches 165 F or higher. (A 12-pound bird will take about 3 hours and 15 minutes to roast. Add 15 minutes for each additional pound.)
Allow the turkey to rest 20 to 30 minutes before carving. Store leftovers in refrigerator or freezer immediately after the meal.