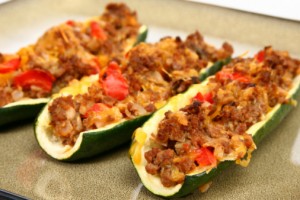 August is the time to enjoy the bounty of the gardens we planted back in the spring, and if one crop is the most bountiful, it always seems to be the zucchini! You can make so many things with zucchini, from baked goods like breads and cookies to more savory fare, like soups and pickles. But have you ever considered going Mexican with your favorite squash? If you've been thinking about ways you can save carbohydrates and still enjoy your favorite Mexican dishes, you'll be happy to learn you can substitute zucchini for taco shells!
This recipe for zucchini taco boats turns the zucchini squash into the shell, and gives you a healthy, delicious choice when it comes to Tex-Mex night at your house. And, you can find everything you need to make this recipe right at Charlie Johns. From meats and cheeses to fresh produce and spices, we can help you get the ingredients you need to make this dish and much more.
Zucchini Taco Boats
Ingredients
1 pound ground turkey
1 tbsp. olive oil
2 cloves of garlic, minced
1 tbsp. chili powder
1 tbsp. onion powder
2 tsp. ground cumin
1 tsp. paprika
½ tsp. cayenne
2 jalapeño peppers, seeded and diced
1 large tomato, diced
¼ cup water
Salt and pepper to taste
2 large zucchini
¾ cup Monterey Jack cheese
Directions
Preheat oven to 400 degrees.
Slice the zucchinis in half lengthwise. Scoop out the seeds and discard.
Heat the olive oil in a large skillet. Add garlic and spices; cook for about one minute. Stir frequently to prevent burning. Next, stir in turkey, cooking until brown and meat is no longer pink, stirring often. Next add the jalapeño, tomatoes and water, cooking until the liquid is absorbed. Stir in ½ cup of the cheese and season with salt and pepper.
Fill each zucchini half with the turkey mixture, then top with the remaining cheese. Place the zucchini boats in a baking dish and bake for 20 minutes, or until they have browned. Serve with toppings of choice, such as cilantro, lime wedges, sour cream, crumbled tortilla chips, hot sauce, etc.