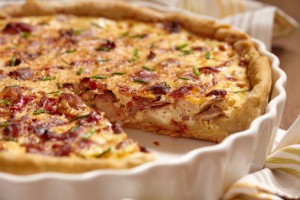 Mother's Day is Sunday, May 10 and is the one day each year devoted to making Mom feel special and loved. One of the best ways you can show your mother some affection is by cooking her a delicious dish. Whether you still live with your mom and can make her breakfast in bed this Mother's Day, or if you want to show up at her house with a special brunch treat, we think it's the perfect opportunity to give your mom a little quiche!
We also know everyone is pressed for time, so we looked for a recipe that you can make fast with simple ingredients. We found this quiche recipe that uses just a few easy ingredients, and has a prep time of only 10 minutes! And what's more, it has bacon – and we all know everyone loves that! Perfect for Mother's Day or any day, Pillsbury's Bacon 'n' Cheese Quiche has a five-star rating and is sure to please. What's more, you can easily find all of the ingredients you need right at Charlie Johns!
Pillsbury's Bacon 'n' Cheese Quiche
Ingredients:
• 1 Pillsbury™ refrigerated piecrust, softened as directed on box
• 1 cup half-and-half or milk
• 4 eggs, slightly beaten
• ¼ teaspoon salt
• ¼ teaspoon pepper
• 8 slices of bacon, crisply cooked and crumbled
• 1 cup shredded Swiss or Cheddar cheese (4 oz.)
• ¼ cup grated Parmesan cheese
• 1 tablespoon chopped onion, if desired
Directions:
• Heat oven to 350 degrees F. Place piecrust in 9-inch glass pie plate as directed on box for one-crust filled pie.
• In medium bowl, mix half-and-half, eggs, salt and pepper; set aside. Layer bacon, cheeses and onion in crust-lined plate. Pour egg mixture over top.
• Bake 40 to 50 minutes, or until a knife inserted in the center comes out clean. Let stand 5 minutes, and cut into wedges.
And don't forget – while you're at Charlie Johns picking up the ingredients for this recipe, there are many other items in the store that can help make Mom's day the best ever. We have fresh-cut bouquets near our produce section, baskets and blooms in our lawn and garden area, an extensive book section for the mom who loves to read, and much more! Stop in and see how we can help you make this Mother's Day one of her most memorable.