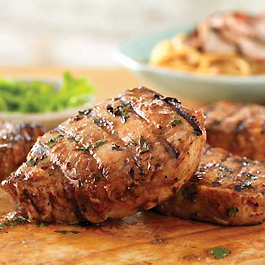 Thai Ribeye Pork Chops
Servings: 4
Prep Time: 5 Min.
Cook Time: 10 Min.
Marinate: 20 Min.
What you need:
4 boneless ribeye (rib) pork chops, about 3/4- to 1-in. thick
1/4 c. soy sauce
1/4 c. cilantro, chopped OR 1 Tbsp. dried cilantro
3 cloves garlic, crushed (about 3 Tbsp.)
3 Tbsp. brown sugar
1 Tbsp. vegetable oil
1 lime, juiced
What to do:
Whisk together the soy sauce, cilantro, garlic, brown sugar, vegetable oil and lime juice in a bowl.
In a large baking dish, arrange the ribeye pork chops in an even layer. Pour the marinade over the pork chops, reserving about 1/4 cup of the marinade in the refrigerator for later use.
Marinate the pork chops for 20 to 30 minutes.
Heat an indoor grill pan or outdoor grill to medium-high heat. Remove pork chops from the marinade, discarding the excess marinade. Place pork chops on the hot grill for 4 minutes on each side, flipping once until the internal temperature of the pork measures between 145°F. (medium rare) and 160°F. (medium) on a meat thermometer.
Transfer the grilled pork chops to a cutting board and let rest for 3 minutes before slicing against the grain.
Pour the reserved marinade over the sliced pork before serving.
* Serve the pork on top of a bed of peanut noodles for a Thai Pork Noodle Bowl or alongside an herb salad of fresh basil, mint, scallions and cilantro.
* Recipe and photo courtesy of National Pork Board. For more recipes visit: www.PorkBeInspired.com
Nutritional information: Calories: 220; Total Fat: 9g; Saturated Fat: 2g; Cholesterol: 50mg; Total Carbs: 9g; Fiber: 0g; Protein: 20g; Sodium: 940mg; Copyright © 2017 ShoptoCook™ Inc. Buffalo, NY