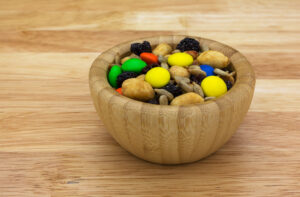 Now that the summer season has begun, it's a great time to do all of your favorite outdoor activities. The warm weather is optimal for hiking, camping, canoeing, fishing, and all of the activities that make summer truly summer. Long days and nights in the wilderness, however, can limit access to creature comforts, including quite a bit of food options. Fortunately, the combination of the right foods, food storage, and a classic campfire can keep you satisfied while you enjoy all that summer has to offer.
Classic Trail Mix
The quintessential snack for a day (or two) in the woods, trail mix is packed full of nutrients to get you through the day. Perfect for someone on the go, trail mix offers the protein and energy you need for a successful day connecting with nature. One of the best aspects of trail mix is that it is completely customizable and you can prepare it in advance, so you're set and ready to go. Here's one of our favorite recipes for the perfect break from any outdoor activity.
Healthy & Tasty Trail Mix
Ingredients
1 cup peanuts
1 cup almonds (or nut of choice)
1 cup raisins
½ cup chocolate chips or chocolate candies (we recommend dark chocolate)
¼ cup roasted pumpkin seeds
Directions
Mix peanuts, almonds, raisins, chocolate chips, and pumpkin seeds together in a large bowl. Portion trail mix out into quart-sized plastic bags.
Eggs
Did you know that eggs technically don't need to be refrigerated? While the USDA recommends keeping eggs refrigerated if they already have been, you can feel assured that keeping them in a cooler will keep your eggs safe for any longer outdoor excursion. After waking up in the morning from a night of camping, there's nothing better than a high-protein breakfast to start your day. One of our favorite, camping-friendly egg recipes combines eggs with onions and cheddar cheese for a flavorful and satisfying meal in the woods.
Cheddar & Onion Scrambled Eggs
Ingredients
4 eggs
1 tbs oil
2 tbs water or milk (shelf pasteurized is a convenient option)
½ onion, diced (adjust for personal taste)
1 tsp salt (adjust for personal taste)
1 tsp black pepper (adjust for personal taste)
½ cup cheddar cheese, shredded
Sliced jalapenos (optional garnish)
Directions
Place a dutch oven or cast iron frying pan over a campfire, camp stove, or charcoal grill, and add oil to the pan. Once the oil is heated, add onion and cook until softened. While the onion is cooking, mix eggs with water (or milk), salt, and pepper in a small bowl. When the onions have softened, add the egg mixture to the pan and gently stir. Once eggs begin to set, add cheese and cook until cheese melts. Quickly transfer eggs to plate and garnish with sliced jalapenos, if desired. Serves two to four people.
Stop by Charlie Johns for your camping food needs.
Charlie Johns in Speculator, NY has everything you need to stay fed and happy during your summer activities. With a wide assortment of dry goods, produce, dairy, and canned goods, you are sure to find what you need for your outdoor retreat. Stop in today and take a look at everything we have in stock.