It's that time of year again – time for the hustle and bustle of the holiday season, which often includes get-togethers and visits with friends and family you may not have seen in a while. Many times, we wonder if we should bring a small gift with us on these visits. Of course, gifts are appreciated – especially ones like delicious, homemade treats from the kitchen. We're sharing a yummy pumpkin bread recipe from Food Network's Alton Brown – it's moist and delectable, and especially delicious with the added crunch of pumpkin seeds. And, it's perfect for giving, so bake up a batch to share – and for yourself!
Alton Brown's Pumpkin Bread
Ingredients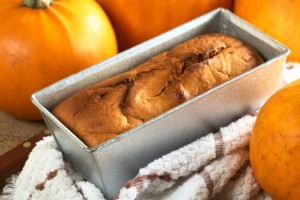 2 cups all-purpose flour
2 teaspoons cinnamon
1 teaspoon baking soda
1/4 teaspoon baking powder
1/2 teaspoon salt
1 1/2 cups sugar
3/4 cup vegetable oil
3 large eggs
1 teaspoon vanilla extract
3 cups shredded fresh pumpkin
1 cup toasted pumpkin seeds
Directions
Preheat the oven to 325 degrees F.
Sift the flour, cinnamon, baking soda, baking powder, and salt together.
In a separate bowl, mix the sugar, vegetable oil, eggs, and vanilla. Combine both mixtures and fold in the shredded pumpkin and pumpkin seeds. Once the ingredients are all incorporated pour into a non- stick 9 by 5 by 3-inch loaf pan. If your pan is not non- stick coat it with butter and flour.
Bake for 1 hour and 15 minutes. At this point a knife inserted into the middle of the loaf should come out clean. Cool for 15 minutes and turn out onto a cooling rack. Cool completely. For muffins temperature should also be 325 degrees F., but bake for 30 minutes.
Of course, you can find all the ingredients you need for this recipe right at Charlie Johns, located in the heart of Speculator. Count on Charlie Johns for all of your holiday baking needs.